Walmart Leads World's Private Companies In Most Number Of Employees - IBT Graphics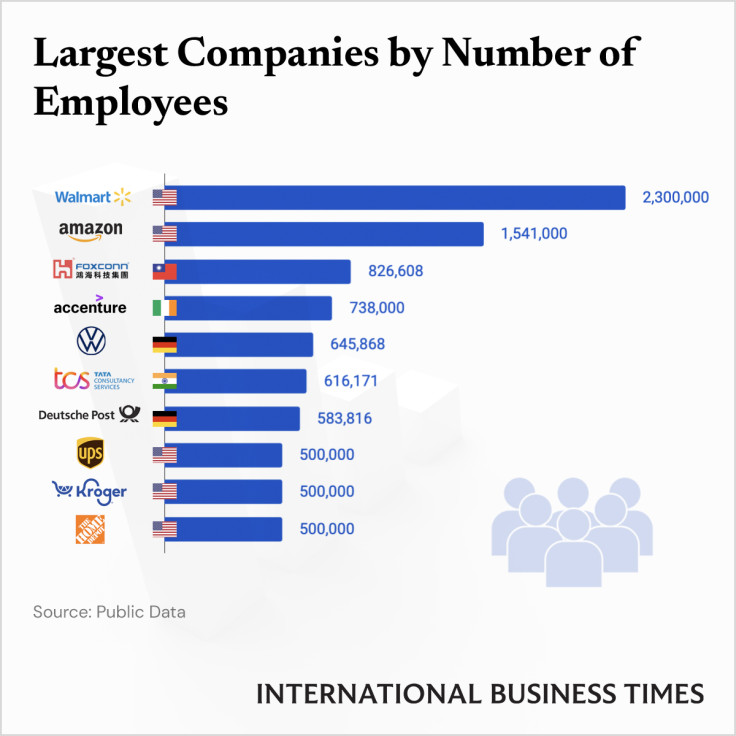 An estimated 3.32 billion people were employed worldwide in 2022 in the aftermath of the unprecedented economic shock caused by the COVID-19 pandemic, with the global employment-to-population ratio estimated to be about 55.8% last year.
As of 2022, Walmart was the world's largest publicly traded employer, with about 2.3 million employees globally. With total revenue of over $622 billion, the retail giant also ranked top on the list of largest companies by revenue last year. Walmart employs the maximum number of workers across multiple states, and has over 4,700 stores around the U.S. as of 2022.
Amazon followed at the second spot with 1.5 million employees worldwide. A majority of the biggest employers are located in the U.S., followed by Germany, with Volkswagen and Deutsche Post taking the lead in the European nation. Taiwan-based global electronics contract manufacturer Foxconn bagged the third spot, with more than 826,600 people working at the company.
© Copyright IBTimes 2023. All rights reserved.