Walmart's New Uniforms Made In Jordan, Despite 'Buy American' Campaign And Jordan Labor Controversy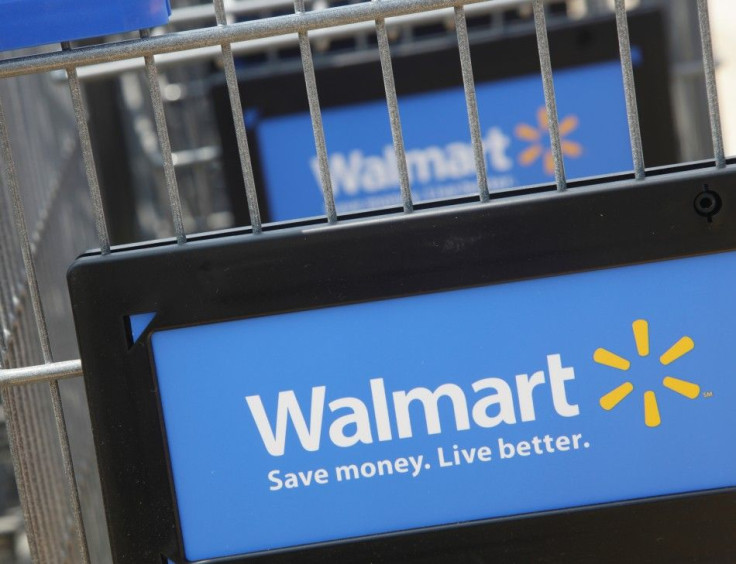 The blue polyester vests that Wal-Mart Stores Inc. (NYSE:WMT) workers will soon be required to wear hail from Jordan, according to media reports. The garment's place of origin raised plenty of eyebrows due to the giant retailer's recent pledge to buy more U.S.-made goods, as well as the slate of workers' rights violations at Walmart suppliers in Jordan.
Gawker received a tip Friday from a Walmart employee in Minnesota, who snapped a picture of the vest's inner tag. The image was also distributed by a PR firm for labor organizing group OUR Walmart.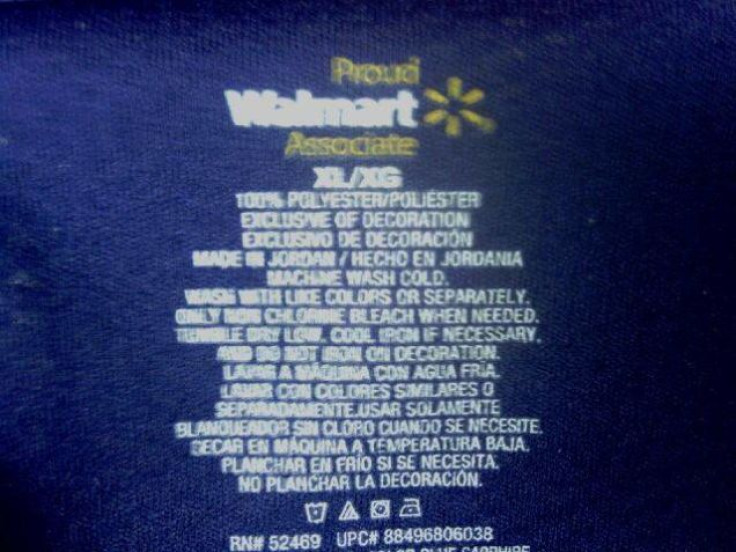 As of Sept. 29, workers at thousands of Walmart stores will have to wear the vest along with a collared blue or white shirt and black or khaki pants. The dress code has sparked fierce opposition among labor organizers and employees who say they can't afford to buy new clothes.
Kory Lundberg, a Walmart spokesman, said that the world's biggest retailer has "been working for several months to identify a U.S. supplier for our new vests. It's been a challenging process and is one of the main reasons we've focused our efforts this year on helping textile manufacturers overcome the barriers to sourcing domestically," he said in an email to International Business Times on Friday. "We're excited to say that we are very close to signing an agreement with a U.S. supplier to provide our replenishment vests."
He added that the blue employee vests are one of the key reasons why the company's U.S. manufacturing initaitive will initially focus on the textile industry and supply chain.
The Bentonville, Arkansas-based company launched its "Buy American" campaign in early 2013. It pledged to spend an extra $250 billion on products made, sourced or grown in the United States over the next decade. The company says two-thirds of its products are already domestically made. "We believe we can create more American jobs by supporting more American manufacturing," according to Walmart's website.
But a Reuters report in June revealed the strategy has been slow to get off the ground. After decades of industrial decline, America's pool of component suppliers and technically skilled workers is shallow, and Walmart is having to "reshore" over a hundred manufacturing projects to get the supplies it needs, Reuters reported.
Gawker's vest story also noted Walmart's recent controversies with Jordan-based garment manufacturers. In 2006, foreign workers in Jordanian sweatshops that produce clothes for Walmart, Target and other U.S. retailers complained of 20-hour workdays, of going unpaid for months and of being beaten by supervisors and jailed if they complained, the New York Times reported at the time.
Walmart confirmed that it had discovered serious problems with conditions at several major sweatshops in Jordan. Five years later, however, a separate report cited egregious human rights violations at Jordanian sweatshops that produced clothing for Walmart and other retailers. Female employees were allegedly subjected to widespread sexual abuse, while many workers were forced to live in bed bug-infested dormitories lacking heat and water, according to the Institute for Global Labour and Human Rights's 2011 report.
Walmart issued a brief statement at the time acknowledging the allegations and expressing concern, while declining to answer reporters' questions, the Huffington Post reported.
Update 9/12/14 6:45 p.m. EDT The story has been updated to include comments from Walmart spokesman Kory Lundberg.
© Copyright IBTimes 2023. All rights reserved.
FOLLOW MORE IBT NEWS ON THE BELOW CHANNELS