Walter Energy Can Cancel Labor Contract, Retiree Benefits: Federal Bankruptcy Judge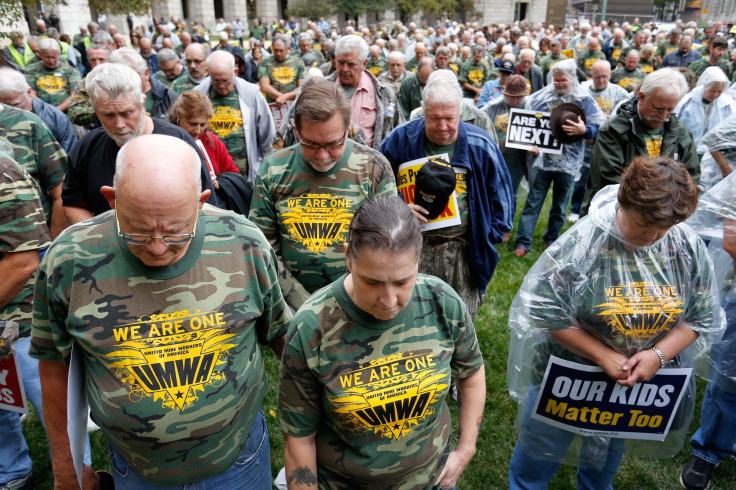 A federal bankruptcy judge is allowing Alabama-based coal company Walter Energy to throw out its collective bargaining agreement and reject health and pension obligations to nearly 3,000 retired miners and their dependents. The order, issued Monday, paves the way for the beleaguered company to move forward with a sale of its assets to senior lenders.
Lenders had refused to take on existing labor-related liabilities, according to court filings. The company's largest labor union, the United Mine Workers of America (UMWA), had vehemently opposed Walter's request to throw out the contract.
Union president Cecil Roberts blasted the ruling in a statement, calling it "extremely disappointing but not surprising."
"A lifetime of hard work and dedication means nothing to the courts," Roberts said. "The life-or-death decisions vulnerable senior citizens will now be forced to make mean nothing to the courts. Apparently all that matters is that executives get bonuses and Wall Street raiders get paid."
In a separate and previous ruling, the bankruptcy judge allowed the company to pay around $2 million in retention bonuses to 26 non-union employees.
A spokesman for Walter Energy declined to comment.
Walter Energy Inc. (WLT) Net Income - Last 5 Quarters | FindTheCompany
The company's contract with the Mine Workers union covers 700 active workers. Retiree benefit plans with the Mine Workers cover roughly 2,800 people, according to the union, a number that includes retired miners and their dependents. Walter Energy pays between $25 million and $30 million a year in retiree benefits, according to court documents, the majority of which goes to union plans.
According to court testimony, Walter Energy currently has roughly $95 million in cash. The company has said it is approaching a $30 million benchmark that would force it to spend the remaining sum to permanently "wind down" operations.
"This court finds that maintaining the coal operations as a going concern, keeping the mines open, offering future job opportunities and continuing to be a productive member of the business community all require this court to overrule the UMWA and the UMWA Funds' objections," judge Tamara Mitchell wrote in the order.
Walter Energy operates two underground mines in Alabama that produce metallurgical coal. It also has operations in Canada, West Virginia and the United Kingdom. Most of the company's revenue comes from coal used for steelmaking, an industry that has struggled mightily in the United States amid a wave of foreign imports, many of them from China.
The domestic coal industry has also struggled in recent years, largely due to the widespread availability of cheap natural gas. Other major coal companies have also entered bankruptcy proceedings this year, including Alpha Natural Resources and Patriot Coal Corp.
U.S. courts have upheld the ability of employers to reject collective bargaining agreements during bankruptcy proceedings. Companies must demonstrate that they attempted to bargain in good faith before doing so.
The Mine Workers union is now attempting to negotiate a new contract for Walter Energy workers. As those talks proceed, the company is not expected to cut off healthcare benefits.
Retirees will continue to collect pension benefits since the plan relies on contributions from other employers. However, that plan is already considered to be in "critical status" by the federal government -- the product of the most recent economic crisis and a dwindling number of active workers paying into the system.
© Copyright IBTimes 2023. All rights reserved.
FOLLOW MORE IBT NEWS ON THE BELOW CHANNELS