Walter Scott Dash Cam Video: Watch What Happens Before Fatal Shooting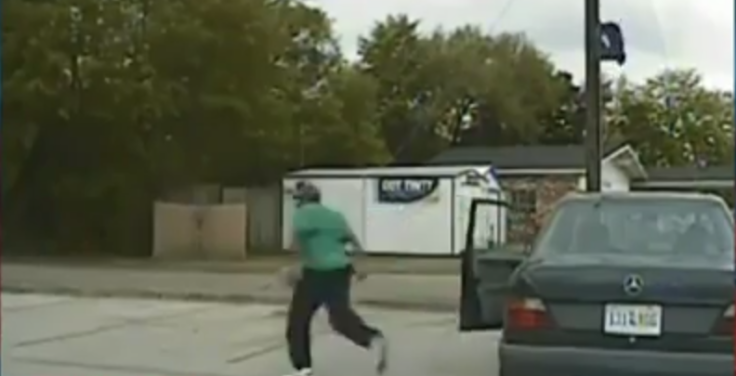 A dash camera video shot from inside North Charleston police officer Michael Slager's cruiser shows the routine traffic stop that led to the fatal shooting of 50-year-old Walter Scott on April 4. About two minutes after Slager approaches Scott's vehicle, asks for his paperwork and returns to his cruiser, Scott is seen running off-screen with Slager in pursuit, yelling, "Taser! Taser! Taser!"
Up until Scott fled, the traffic stop appeared to be proceeding as normal. Slager is heard telling Scott his third brake light is out and asking for vehicle registration. Scott said he did not have paperwork for the Mercedes Benz he was driving and claimed he was buying the car that week. Slager returns to his cruiser with Scott's identification, telling Scott he would "be right back with you."
After a brief moment, Scott opens his door and moves to exit the vehicle, but sits back down in the driver's seat at Slager's order. Moments later he opens his door and flees. The events that happen off-screen are unclear, but based on the muffled noise heard on the microphone Slager wore at the time, the two men may have physically scuffled.
The dash cam supplements a phone camera video shot by a bystander, Feiden Santana, which shows the moment Slager shoots and kills Scott. After the shooting, Slager said that Scott had reached for his Taser, but that is disputed by Santana, who told NBC what he saw just prior to his recording of the incident. Slager was charged with murder and fired by the North Charleston Police Department after the video became public.
"Before I started recording, they were down on the floor. I remember the police [officer] had control of the situation," Santana said. "He had control of Scott. And Scott was trying just to get away from the Taser. But like I said, he never used the Taser against the cop."
The Charleston Post and Courier obtained an hourlong uncut version of the video, which it has not released. Watch the video:
© Copyright IBTimes 2023. All rights reserved.