Warriors: Kevin Durant Ready To Opt-Out And Become A Free Agent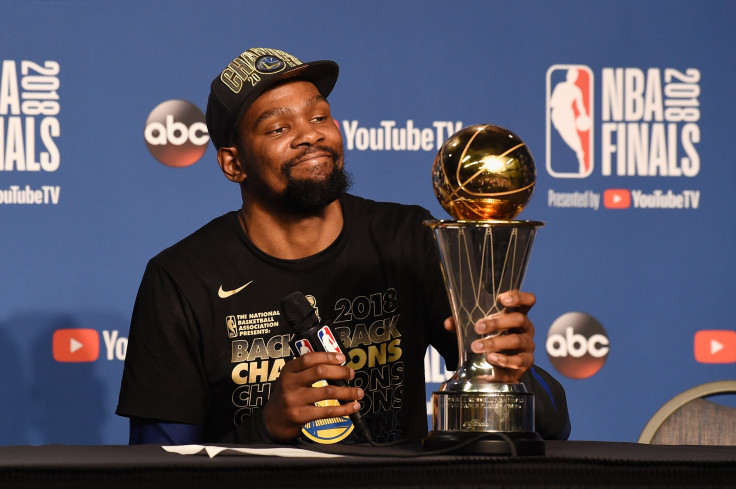 Kevin Durant is set to become a free agent on July 1 after deciding to exercise the opt-out option in his current two-year $51m deal he signed last season with the Golden State Warriors.
The Warriors small forward signed a two-year deal prior to the start of the 2017-18 season with an opt-out clause inserted in his deal. If he chooses to exercise it before the June 29 deadline, he will become a free agent on July 1.
Despite choosing to opt-out of his deal, Durant remains committed to the reigning NBA champions. He is doing so in order to sign a new deal and has a number of options on the table to increase his earnings in the long-term with the best team in the NBA at the moment.
Warriors' general manager Bob Myers made it clear they want to retain Durant for the foreseeable future at any cost and even suggested that they are willing to offer the forward any deal he wants.
"Sometimes you don't negotiate," Myers said after the Warriors won their third NBA championship in four years. "I'd love to have him for 10 years. Kevin Durant, look what he did for us last year, he did us a great service (taking less than a max offer). He's earned the right to sign whatever deal he wants."
"I just want him to sign a deal. But want him to be happy and want him to know that we want him as long as he wants to be here. He's earned that, to kind of lay out the terms. He can do whatever he wants. That shouldn't be a long negotiation. Our goal, to be honest, is to try to keep the whole thing together, so that's the pieces of the puzzle we've got to try to figure out," he said.
Durant took around $10m less when he signed his contract with the Warriors last season, allowing them to re-sign Andre Iguodala and backup point guard Shaun Livingston – and that act has been praised on numerous occasions by the hierarchy.
The 29-year-old, who was impressive in the regular season, stepped up his game in the playoffs and especially in the finals against the Cavaliers. He was named the NBA Finals MVP for the second consecutive season, which now gives him a number of options in terms of signing a new deal with the Warriors.
Durant can sign a four-year deal with a max contract for about $158m, but also has an option of signing a two-year deal with a player option, a three-year with a player option or a four-year with a player option.
NBC Sports have provided a breakdown of his earnings depending on the contract he opts to sign, but there remains no doubt that he will stay with Warriors despite becoming a free agent on July 1.
© Copyright IBTimes 2023. All rights reserved.