Warriors Or Cavs? Who Will Win Game 2 Of The 2018 NBA Finals?
After a highly eventful Game 1 in which the Cleveland Cavaliers came close to gaining home-court advantage in the finals with an unexpected win, the best-of-seven series shifts to Game 2 on Sunday night with the defending champion Golden State Warriors looking to take a commanding lead at Oracle Arena.
The Warriors are not just favorites to take Game 2, they are tbe big favorites. According to Vegas Insider, Golden State is favored at -11.5 points, with the over/under at 215.5 points. Both Stephen A. Smith and Max Kellerman of ESPN pick the Warriors to prevail, and they are joined by many other experts.
However, it might be foolish to presume the Cavs will roll over after faltering in the final moments of regulation in Game 1 and then being outscored 17-7 in overtime.
Retired NBA center Ryan Hollins predicts the Cavs will take Game 2. "Cavaliers win because they're upset," said Hollins.
Hollins may have a strong point, as three Cavs players probably felt particularly disappointed after Game 1. After George Hill's missed free throw with the game tied in the final seconds, J.R. Smith failed to follow up with a shot attempt after somehow getting the rebound. Smith then burned too much time off the clock to take a good final shot.
Near the end of overtime, Tristan Thompson was called for a flagrant foul and then ended up in a scuffle with Draymond Green, resulting in Thompson's ejection.
Then there is LeBron James. After a questionable late blocking foul and following some jawing with Stephen Curry, James may somehow step up his game even further for Game 2. He scored 51 points in Game 1 and on 19-32 shooting.
"We've got to move on," James said after Game 1. "This game is over and done with. We had opportunities."
The Cavs could also be helped by Kevin Love converting more shots from distance. Love, who shot 41.5 percent from three-point range in the regular season, was 1-8 from beyond the arc in Game 1.
The Warriors, meanwhile, are not at full strength. Klay Thompson is listed as questionable after suffering a left ankle sprain. Thompson is expected to play, but he has stated that there is stiffness and swelling, though he remains optimistic.
"I'm not moving as much," Thompson said Saturday. "[I] go to bed and it swells up."
Defensive star Andre Iguodala has been listed as "doubtful" for Game 2. The swingman has been out since May 20.
Hope may not be lost for the Cavs in the series should they drop Game 2. In the 2016 NBA Finals, the Warriors lead the series 2-0, but the Cavs won Game 7 at Oracle Arena.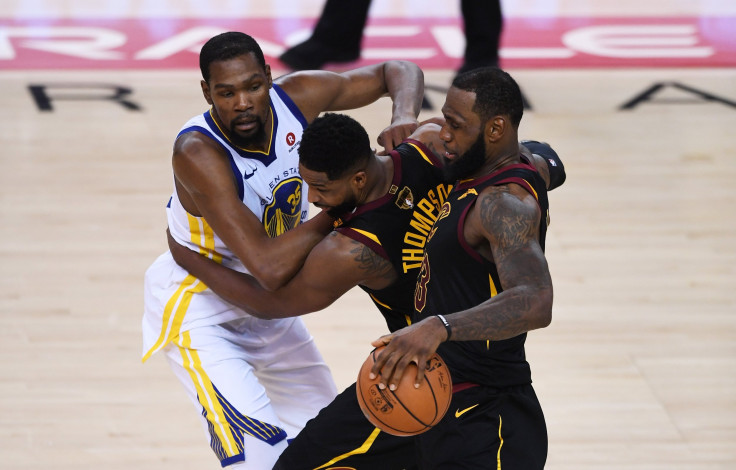 © Copyright IBTimes 2023. All rights reserved.