Warriors Rumors: Kevin Durant, Klay Thompson Will Get Max Contract Offers From Golden State In 2019
The rest of the league might be preparing for their chance to seize control of the NBA next season, but the Golden State Warriors aren't ready to give up their spot as the kings of the Western Conference without a fight. As the team faces plenty of uncertainty in free agency, they are prepared to keep the core of the dynasty together, no matter the cost.
ESPN's Brian Windhorst said on "First Take" Friday morning that Golden State plans to make five-year max contract offers to both Kevin Durant and Klay Thompson. While that news doesn't exactly come as a surprise, it's somewhat interesting given what happened in the final two games of the 2019 NBA Finals.
Durant tore his Achilles in Game 5, likely keeping him out for the entirety of the 2019-2020 NBA season. Thompson left Game 6 against the Toronto Raptors with a torn ACL, and he's expected to miss a large portion of next year, at the very least.
Thompson will probably return to the same All-Star-caliber player he's been for the last half-decade. There are more questions surrounding Durant's recovery. Players that rupture their Achilles are usually never the same.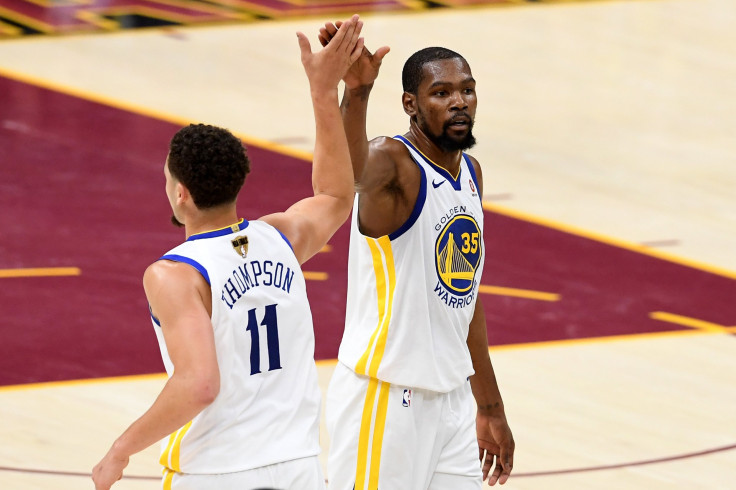 For most of this past season, there have been rumors that Durant planned to leave Golden State as a free agent in the summer. He's reportedly had his eyes on the New York Knicks. The Brooklyn Nets have emerged as perhaps just as much of a threat to sign Durant now that Kyrie Irving is reportedly set to join New York's second team.
It's long been expected that Thompson would stay in Golden State. Yahoo Sports' Chris Haynes reported after Game 6 that the Warriors are the shooting guard's first choice, though he will weigh his options "should any obstacles materialize."
Signing both Durant and Thompson to max contracts would cost Warriors' ownership a fortune. Stephen Curry already has a max deal that will pay him $40.2 million next year. Having all three players on the roster could put Golden State's combined payroll and luxury tax bill near $350 million.
The Warriors also have to worry about signing Draymond Green in 2020. He will likely command close to a max contract.
Golden State can actually afford to have Curry, Thompson and Durant all signed to contracts worth north of $200 million. The Warriors will generate tons of revenue from their new arena in San Francisco next year.
The equation, however, has changed over the last few days. Paying $350 million for a team with a good chance to reach its sixth straight NBA Finals is one thing. Paying that same price for two of your best players to rehab and watch as the Warriors fail to reach the second round of the playoffs is another.
It's an issue that Golden State isn't expected to face, but one to certainly to keep an eye on with free agency set to begin in a few weeks.
© Copyright IBTimes 2023. All rights reserved.