Warriors Star Eyeing To Join Exclusive List Of Players With Fifth NBA Title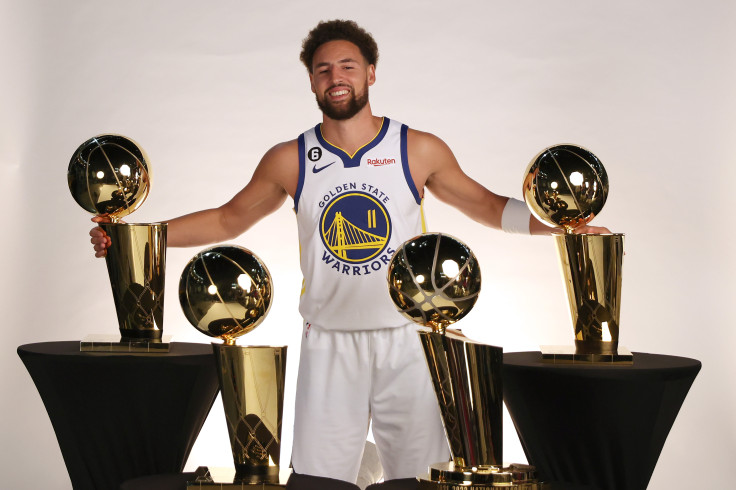 KEY POINTS
Klay Thompson is optimistic of their championship odds this season
The Warriors are again the kings of the NBA after winning the title once again
A fifth title for Thompson puts him and his co-stars among the league's greatest players
The Golden State Warriors enter the new NBA season as the kings of the hill, and Klay Thompson wants nothing more than to add another accomplishment to his already Hall of Fame-worthy career.
During Warriors Media Day, the prolific three-point shooter bared his thoughts on what lies ahead for them.
"I think we are all so proud of what we accomplished last year, but that's in the past. The greats stay hungry, and we all have our motivations for why we want to win another one," he mentioned.
"For me personally, and probably Steph [Curry] and Andre [Iguodala] and Draymond [Green], you think of the players who have won five championships, it's such a short list. To have the opportunity... to be able to do that, is so special."
Prior to the start of the 2021-22 NBA season, the Warriors were given the fourth-best odds to win the chip at plus-1100 with the Milwaukee Bucks (plus-850), Los Angeles Lakers (plus-425) and the Brooklyn Nets (plus-230) ranked ahead of them according to Basketball Reference.
The Warriors were out to prove that their core of Thompson, Stephen Curry, Andre Iguodala and Draymond Green was still the best in the league despite their own limitations.
Thompson was coming off two injury-plagued seasons, Curry entering his age-33 season, Iguodala in the twilight of his career, and Green dealing with foot and back issues–the latter of which forced him to miss 31 consecutive games.
Add in the fact that they had a relatively unproven supporting cast of Gary Payton II, Nemanja Bjelica, Jordan Poole and Juan Toscano-Anderson, the Warriors were not expected to make the NBA Finals.
All worry was extinguished when the Warriors ran roughshod over their Western Conference counterparts after beating the Denver Nuggets, Grizzlies and Dallas Mavericks in a total of 16 games.
Against the Boston Celtics in the Finals, Golden State was caught by surprise when Al Horford led them to an upset victory in Game 1.
However, Andrew Wiggins proved to be their x-factor as the former No.1 overall pick's offense ultimately helped lead them to their fourth NBA title since 2015.
Should the Warriors win the chip again this season, the Warriors' key cogs will join a vaunted list of stars to have won five titles, which include the likes of Kobe Bryant, Michael Jordan, Tim Duncan, George Mikan, Magic Johnson, Robert Horry, John Havlicek and the legendary Bill Russell, among others.
With history staring at them right in their face, Thompson is more determined than ever to establish his legacy among the NBA's greatest players.
"It's kind of mindboggling to think that we have that opportunity. But we're going to seize it, I can feel it," he stated.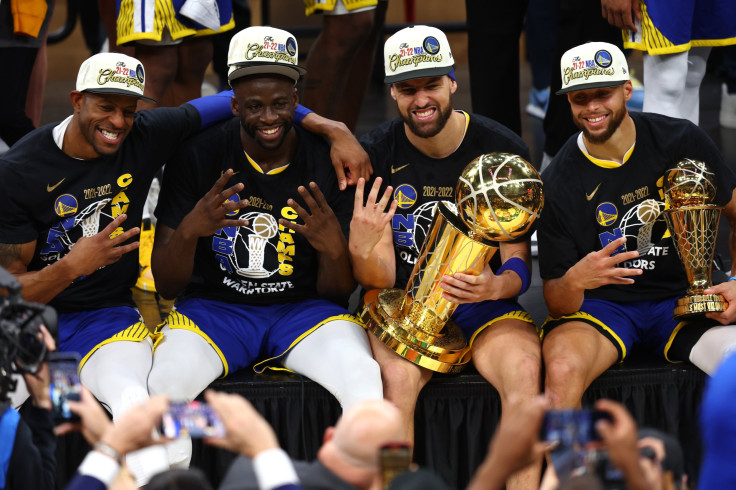 © Copyright IBTimes 2023. All rights reserved.