Was John Wayne Racist? California Democrats Refuse To Honor Film Star Because Of White Supremacy Views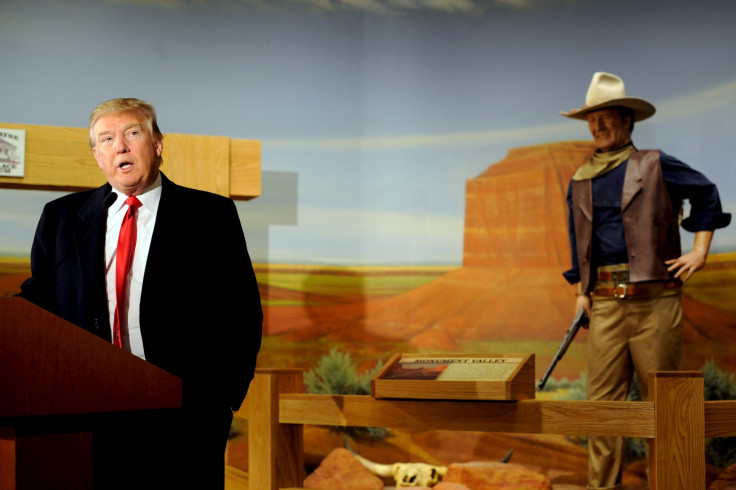 An effort to declare May 26 John Wayne Day in California was defeated in the Assembly Thursday after lawmakers denounced the international movie icon as a racist. Several members said the state shouldn't honor the film star famous for his roles in Hollywood Westerns and war movies because he made racist comments about minority groups and supported the anti-Communist House Un-American Activities Committee and John Birch Society.
"He had disturbing views towards race," said Assemblyman Luis Alejo, a Democrat from Watsonville, during the debate. Assemblywoman Lorena Gonzalez of San Diego also complained that in Wayne's Westerns, "there was a lot of slaughtering of Native Americans."
Republican Assemblyman Matthew Harper had prepared to honor the actor on May 26, his birthday. But Democrats pushed back, calling Wayne's views on blacks and American Indians "disturbing," the Associated Press reported Friday. The resolution was defeated by a 35-20 vote that Harper scorned as "the orthodoxy of political correctness."
"Opposing the John Wayne Day resolution is like opposing apple pie, fireworks, baseball, the free enterprise system and the Fourth of July!" he said later in a written statement.
The attack on Wayne's legacy comes as an increasingly diverse United States is re-examining its mainstream heroes amid discussions of enduring racial injustice and racism. College students have protested in recent months against buildings named for Confederate leaders, and President Andrew Jackson, a slaveowner and Indian fighter, is slated to be removed from the face of the $20 bill in favor of black abolitionist Harriet Tubman.
Wayne once defended European settlers' often violent invasions of American Indian land because they "were selfishly trying to keep it for themselves." "I don't feel we did wrong in taking this great country away from them, if that's what you're asking. Our so-called stealing of this country from them was just a matter of survival. There were great numbers of people who needed new land, and the Indians were selfishly trying to keep it for themselves," Wayne said.
He also said he believed in white supremacy "until the blacks are educated to a point of responsibility." "I don't believe in giving authority and positions of leadership and judgment to irresponsible people," Wayne said in a 1971 interview with Playboy magazine.
He refused to back down from his views, at one point declaring, "I think any black who can compete with a white today can get a better break than a white man. I wish they'd tell me where in the world they have it better than right here in America."
Wayne remains a popular conservative icon. Aissa Wayne, the actor's daughter, endorsed Republican front-runner Donald Trump for president at the John Wayne Birthplace Museum in Iowa in January, Fusion reported. At the time, she said, "If John Wayne were around, he'd be standing right here instead of me."
Wayne was the star of movies such as "The Alamo," ''The Green Berets" and "True Grit," the role that won him an Academy Award in 1969. He often portrayed rugged cowboys and brave soldiers on the big screen and was known as "Duke," a nickname from his childhood in Glendale, California. He died in 1979.
"He stood for those big American values that we know and we love," said Assemblyman Travis Allen, a Republican from Huntington Beach.
Other Republican supporters pointed out Wayne's support for U.S. soldiers and Vietnamese refugees settling in California after the Vietnam War.
"Everyone of us is imperfect," Irvine Republican Don Wagner said during the debate, the Sacramento Bee reported.
© Copyright IBTimes 2022. All rights reserved.
FOLLOW MORE IBT NEWS ON THE BELOW CHANNELS