Was Kim Yang Gon Purged? Experts Speculate Kim Jong Un's Aide Was Punished For Failed Inter-Korea Talks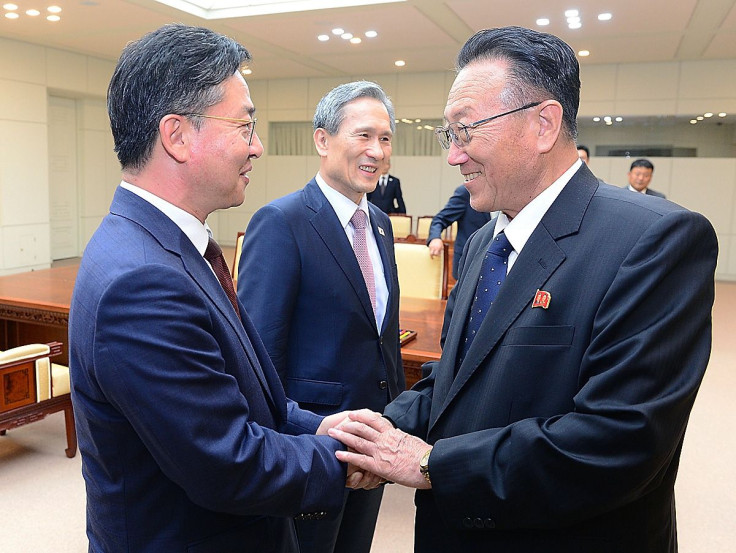 The death of Kim Yang Gon, a top aide for North Korean leader Kim Jong Un, has triggered speculation that he may have been killed, the Wall Street Journal reported Wednesday. Kim Yang Gon died in a car accident Tuesday morning, according to state media, which described him as a "steadfast revolutionary comrade."
Kim Yang Gon, who was a secretary of the Workers' Party, played a key role in high-level talks in August after the two Koreas exchanged artillery fire, taking tensions to a new level. South Korea expressed condolences in a message sent out Wednesday by the country's Unification Minister Hong Yong-pyo. While one analyst expressed concern Kim Yang Gon paid with his life for the failure of the peace talks, another predicted his death could worsen ties between the two Koreas.
"Seriously, how heavy is traffic [in] downtown Pyongyang?" Greg Scarlatoiu, executive director of the Washington-based Committee for Human Rights in North Korea, told the Journal.
Bruce Klingner, a North Korea expert at the Heritage Foundation in Washington, told the Journal that Kim Yang Gon may have been punished for the fruitless talks between the warring neighbors, after they failed to reach an agreement in August. However, Klingner also noted that the praise aimed at the deceased in state-run media suggested "an accidental rather than planned death."
The Journal noted that Choe Ryong Hae, who was considered one of Kim Jong Un's top lieutenants, was included on the funeral committee list for Kim Yang Gon. Choe's name was not included on the funeral committee list for another top official in November, leading to speculation that he had been purged, according to the Journal.
South Korean intelligence officials had reportedly said that Choe was sent to the countryside for re-education. Now, it's been speculated that Choe might take Kim Yang Gon's place as top aide to the country's leader.
Intelligence officials and experts typically examine North Korea's funeral committee lists for signs of which top officials have either risen or fallen in favor. In December 2013, Kim Jong Un ordered the execution of his uncle, Jang Song Thaek, who oversaw Pyongyang's relationship with Beijing. His death soured relations between China and North Korea.
© Copyright IBTimes 2023. All rights reserved.