Was Super Typhoon Haiyan Worse Than The 2004 Indian Ocean Tsunami? Officials Estimate $14B In Damages From Yolanda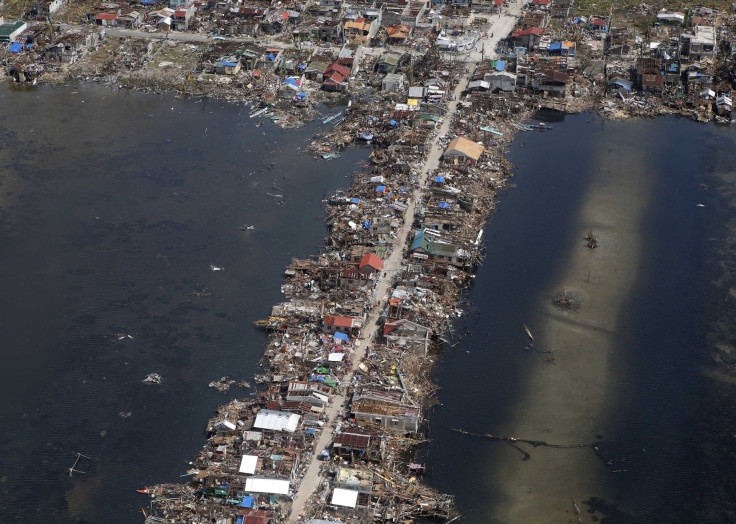 As the Philippines limps toward recovery after Super Typhoon Haiyan tore through the archipelago on Friday, leaving a trail of wreckage in its wake, estimates of the storm's toll have begun to poor in. Local authorities believe the number of casualties will exceed 10,000. An additional 660,000 people were displaced. According to Bloomberg, the economic impact of the Category 4 storm, perhaps the largest ever to make landfall in recorded history, is believed to have reached nearly $14 billion.
"The numbers are really alarming, but still subject to verification," President Benigno Aquino III told reporters Sunday in Tacloban City after he witnessed the devastation from a helicopter. "Areas made of light materials are totally destroyed. The priority now has to be food, restoration of water, and power and communications."
The massive tropical storm sustained winds of up to 190 mph and dumped nearly 16 inches of rain in some regions. Super Typhoon Haiyan uprooted entire communities, meaning many people will have to start recovery literally from the ground up.
Photos show homes and storefronts reduced to rubble, like broken matchsticks strewn across a waterlogged landscape. Vegetation, including palm trees, was stripped of leaves. Photographs show them sticking in every direction or toppled over onto nearby buildings.
Live Science noted that many people were quick to draw parallels between Super Typhoon Haiyan and another major natural disaster, the 2004 Indian Ocean earthquake and subsequent tsunami, which inundated coastal communities all along the Indian Ocean. The comparisons come in part because scenes of the aftermath of Haiyan often look much like the ones that followed the tsunami, in a similar tropical zone, nine years ago.
"In a way, they're similar in that water quickly rose to amazing heights… and inundated low-lying, poverty-stricken areas," Brian McNoldy, a tropical storm expert at the University of Miami, told Live Science. "Of course, they're caused by very different things, and a typhoon also comes with destructive winds, while a tsunami is only the water component."
Akash Kapur, who wrote about Super Typhoon Haiyan for Bloomberg, noted how many survivors of the storm described the "wall of water" that inundated their coastal towns caused by the storm surge. It was this storm surge, not winds or rain, that caused much of the astonishing damage.
"I heard precisely the same description from survivors of the Asian tsunami that struck the part of the coast where I live, in the South Indian state of Tamil Nadu," Kapur wrote, referring to how survivors of the Indian Ocean tsunami described the storm surge nine years ago.
"The last time I saw something of this scale was in the aftermath of the Indian Ocean tsunami," Sebastian Rhodes Stampa, the head of a United Nations disaster assessment team that visited the Philippines over the weekend, said in a statement. "This is destruction on a massive scale. There are cars thrown like tumbleweed."
The 2004 Indian Ocean tsunami was one of the deadliest natural disasters in recorded history. The tsunami, caused by a magnitude 9.1 earthquake that struck off the west coast of Sumatra, Indonesia, killed more than 230,000 people in 14 countries. More than 1.7 million people were displaced in South and Southeast Asia and East Africa.
In some places, waves reached nearly 100 feet high. Many coastal towns were hit by multiple waves that rippled outwards from the earthquake's epicenter. The result was nearly $10 billion in damages to infrastructure in the region, according to a number of estimates.
Unlike victims of the 2004 tsunami, residents of the Philippines were warned of the approaching storm days before it made landfall. Nearly 800,000 people were relocated to storm shelters prior to Super Typhoon Haiyan's arrival.
In terms of damage, the Philippines may have fared slightly worse than the regions affected by the 2004 Indian Ocean tsunami. Loss of life, however, was far greater during the tsunami, particularly because victims had no idea the tsunami was even approaching until it was too late.
FOR FREE to continue reading
✔️ Unlock the full content of International Business Times UK for free
offer available for a limited time only
✔️ Easily manage your Newsletters subscriptions and save your favourite articles
✔️ No payment method required
Already have an account?
Log in
© Copyright IBTimes 2023. All rights reserved.