Philippines Super Typhoon Haiyan Relief Aid Pouring In From Around The World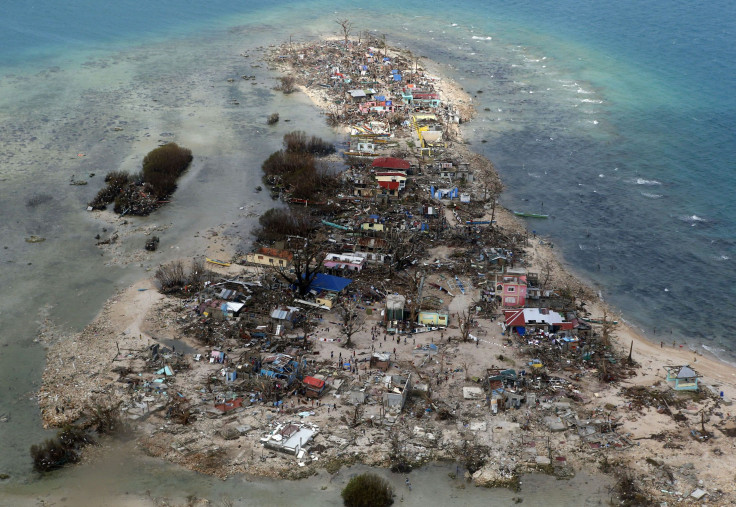 Countries and international organizations from around the world have stepped up to mobilize resources and monetary aid to help the Philippines, where an estimated 10,000 people have been killed and hundreds of thousands displaced by monster storm Haiyan, which struck the nation last Friday.
The death toll is feared to go up further as rescuers continue to search for victims, while more than 4.2 million people across 36 provinces in the Philippines are believed to have been impacted by one of the worst storms on record, according to the government's national disaster risk reduction and management council.
Here is a non-exhaustive list of nations and organizations that have pledged support so far:
United States: Washington on Monday announced $20 million in immediate aid, including food aid and critical relief supplies such as shelter materials and hygiene kits. Defense Secretary Chuck Hagel ordered the aircraft carrier, USS George Washington, which carries 5,000 sailors and more than 80 aircraft, and several other U.S. Navy ships to provide humanitarian assistance and disaster support, including supplies and medical care to the Philippines.
USS George Washington left Hong Kong, where it was on a port visit, on Monday evening and will be accompanied by USS Antietam, USS Cowpens and the destroyer USS Mustin. About 90 U.S. Marines and sailors are already on the ground providing support, according to the Defense Department.
UK: The total contribution from the UK to the Philippines came to 10 million pounds ($16 million), including aid flights from the UK to Cebu in the eastern Philippines to deliver equipment to help clear and re-open roads, and necessary supplies and water-purification tablets. Britain will also send HMS Daring to speed up relief efforts.
United Nations: The humanitarian affairs office of the U.N. announced $25 million in immediate relief aid to the Philippines. IKEA Foundation, a charitable foundation based in Leiden, the Netherlands, donated 2 million euros ($2.7 million) to UNICEF to support relief efforts in the Philippines.
European Commission: Emergency funds worth 8 million euros, including 3 million euros in immediate relief, will be provided to the Philippines through humanitarian organizations, the commission announced on Sunday.
Australia: Foreign Minister Julie Bishop announced a $10 million support package, including an Australian medical team, to provide emergency medical care to the injured. $3 million from the package will go to Australian non-profits providing assistance in the Philippines, while $4 million will go to the U.N. aid fund.
New Zealand: Foreign Affairs Minister Murray McCully announced $2 million, of which $750,000 will go to New Zealand-based non-profits that are working with partners in the Philippines to support the relief and initial recovery effort, while the remainder -- $1.25 million -- will be sent to the Philippines over the coming days. The nation has also pledged an additional $150,000 to the International Federation for Red Cross for immediate relief.
China: Beijing announced a total of $200,000 in aid, of which $100,000 will go to the Chinese Red Cross working on the ground in the Philippines.
The Vatican: Pope Francis announced $150,000 in assistance to the Philippines, a predominantly Catholic nation where 85 percent of the population is Christian. This amount will be distributed by the local church in areas most affected by the disaster, and will be used to support displaced people. Reuters reported that the Vatican has pledged 3 million euros in addition to the Pope's contribution.
Meanwhile, nations such as Japan and Indonesia have sent medical-support personnel, food, drinking water, power generators and medicines, while organizations like the U.N. Refugee Agency, the World Food Program, U.S.-based International Rescue Committee, and Medecins Sans Frontieres International have also sent emergency supplies and relief support teams.
"The disaster is first and foremost a human tragedy, but it will also have economic effects," Capital Economics said in a note. "There is likely to be a short-term negative impact on [the Philippines'] GDP, followed by a rebound that will be helped by reconstruction efforts."
© Copyright IBTimes 2023. All rights reserved.