Watch Budweiser's Clydesdale Super Bowl 2016 Commercial [VIDEO]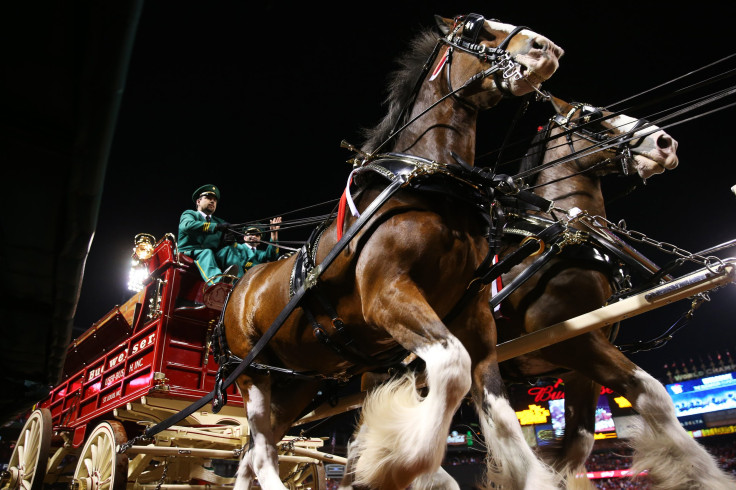 Amid much anticipation, Budweiser released its second Super Bowl 50 commercial Friday. Titled "Not Backing Down," the ad is a follow-up to last year's "Brewed the Hard Way" spot, and it focuses on the brand's signature Clydesdale horses. A 30-second version of the commercial will run during the big game Sunday, but here's the extended 60-second version:
The Anheuser Busch Inbev SA brand had successfully featured puppies in its ads in recent years. But this time around, the brewer returned to the iconic draft horses that made their debut in Budweiser's Super Bowl commercials 30 years ago.
The 2016 ad was created by Anomaly in New York at a time when Budweiser is busy rolling out its new packaging. The commercial features close-up shots of the Budweiser Clydesdales, focusing on their rippling muscles and massive hooves pounding the earth in an effort to convey the brand's strength. It also shows how much work goes into Budweiser's brewing process.
Budweiser, with two ad slots during the game this year, released its first commercial for Super Bowl 50 earlier this week. It's a 60-second spot called "Simply Put," in which the brewer taps actress Helen Mirren to talk about drunk driving. Also created by Anomaly in New York, the commercial employs Mirren's charm and wit to tackle a serious issue while standing apart from the typical drunk-driving public-service announcement.
"We want this spot to really cut through and create conversation about drunken driving," Brian Perkins, vice president of marketing at Budweiser, told Adweek Tuesday. "To do that, our hypothesis was that we had to break some rules and conventions for how this is normally addressed. So there's no roads, no vehicles, no smashed-to-pieces glass on the ground. ... The selection of Helen Mirren fits that strategy."
Watch the full "Simply Put" ad here:
© Copyright IBTimes 2023. All rights reserved.