WATCH: Crocodiles, Tiger Sharks Seen Feasting On Whale Carcass In Rare Video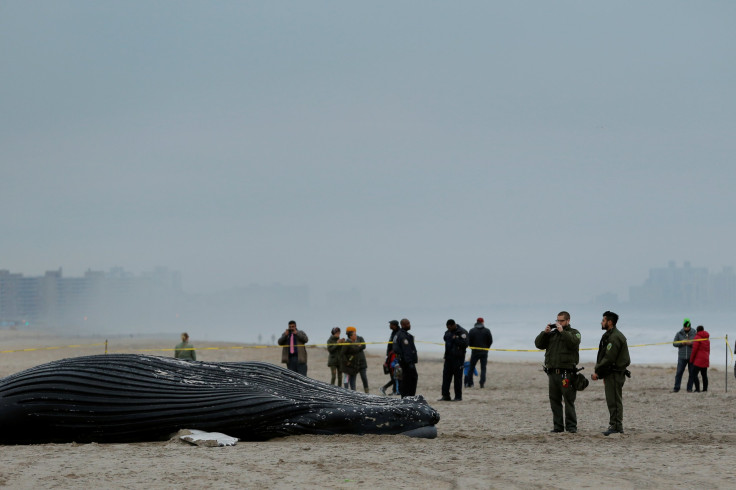 A rare footage of crocodiles and tiger sharks feasting on the carcass of a huge humpback whale was recorded by a drone flying off the coast of Australia.
The video, which went viral, was taken by Jeremy Tucker, who was on a seven-day trip off the Kimberley Coast, Western Australia.
The footage shows the predators repeatedly biting the dead whale's flippers, tail and body.
Currently, Australia's west coast humpback whale population is regarded as one of the healthiest in the world.

Tucker initially filmed tiger sharks and a huge saltwater crocodile feeding on the carcass that was floating on the water; later when the body washed up onto a reef many more crocodiles joined the feast, he said.
The 55-year-old said that this was the second time in 30 years that he has come across animals behaving in such a way.
"We came across this dead humpback whale floating upside down – the cause of death unknown but it had obviously been dead for a while as the smell on the downwind side was pretty horrendous," Tucker said. "As we decided it was worth a closer inspection, we noticed a number of tiger sharks feeding on the carcass as well as the saltwater crocodile."
"So I put the drone in the air and captured a few pictures and some footage. The area that the whale was in is subject to 12-meter tides, so there are many crocodiles and tiger sharks there," he added.
"We later on the return trip noted the whale had washed up onto Montgomery reef and there was a number of crocodiles feeding on the carcass."
Tucker, who is the skipper of the Great Escape luxury charter boat, went on to say: "In a 30-year period of frequenting the Kimberley region I have only seen this once before. That time there was a crocodile sunbathing on top of a dead whale while tiger sharks were feeding on it at the same time – but unfortunately that was before drones."
Tucker told ABC News that sights like this will probably become "more frequent as the whale population successfully returns to pre-hunting levels."
© Copyright IBTimes 2023. All rights reserved.