WATCH: Francis Ngannou's Journey From Sand Quarry Worker To UFC Champion
KEY POINTS
At UFC 260, Francis Ngannou knocked out Stipe Miocic to become the new heavyweight champion
At 10 years old, Ngannou worked in a sand mine to support himself
At age 26, Ngannou left Cameroon to pursue a boxing career in France but found MMA instead
In the main event of Saturday's UFC 260 card, hard-hitting Cameroonian heavyweight Francis Ngannou realized a life-long dream of becoming a UFC world champion.
Ngannou needed just a little over a round to knock out Stipe Miocic to become the new UFC heavyweight champion and send a strong message to the promotion's heavyweight division in the process.
With the win, Ngannou avenged an earlier loss to Miocic and added someone who's widely regarded as the best heavyweight in UFC history to his growing list of knockout victims.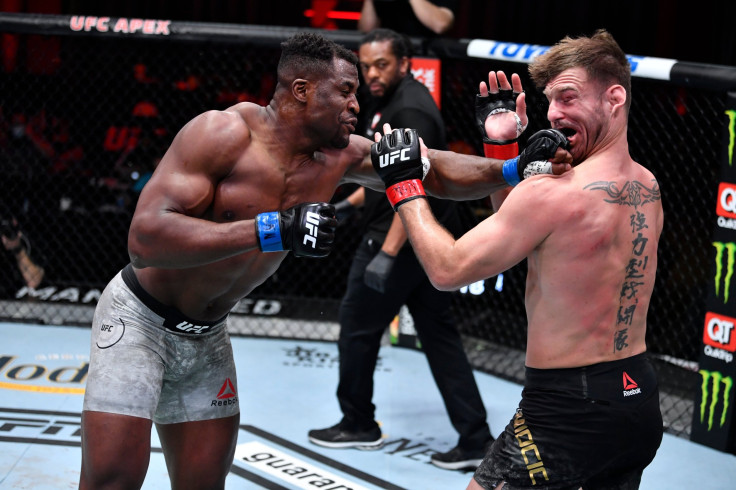 Right now, Ngannou is now hailed by many as "The Baddest Man On The Planet." He's riding high and on top of the world, which is a far cry from his very humble beginnings as a 10-year-old sand mine worker in Cameroon.
On an episode of The Joe Rogan Experience podcast, Ngannou detailed his hardships as a child, having to work in sand quarries just to be able to buy food and put himself through school.
"I was growing up, I was about 10 years old when I started doing that because in the village where I grew up, we had to do something, we had to work to contribute at home, to buy food, and also for our scholarships, for books, so we have to work," Ngannou shared.
"That's how we started. Even though that work was meant for adults, we didn't have any option, so we took what we had," he continued.
Ngannou eventually decided to leave Cameroon and head to Europe to pursue a career in professional boxing.
At 26 years of age, Ngannou began a long and arduous journey to Paris, France, which saw him wander the woods in Morocco for a year and then get jailed for two months in Spain.
Upon reaching Paris, Ngannou was homeless and slept on the streets before finally meeting his first coach Didier Carmont.
READ ALSO: WATCH: This UFC Heavyweight Contender Is Comparable To A Young Mike Tyson
Ngannou eventually discovered the sport of mixed martial arts, and the rest, as they say, his history.
© Copyright IBTimes 2023. All rights reserved.