WATCH: President Trump Takes Shot At LeBron James During Chicago Cubs Visit To White House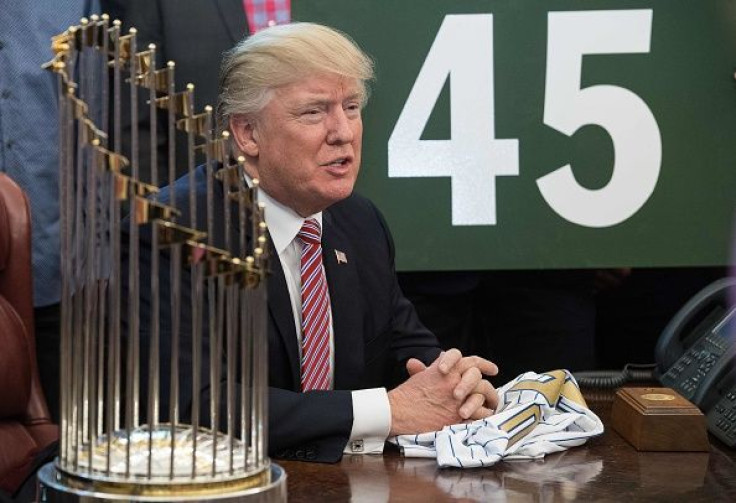 The 2016 World Series champion Chicago Cubs paid a visit to the White House on Wednesday and were greeted by President Donald Trump. During the meeting, Cleveland Cavaliers owner Dan Gilbert also made an appearance, prompting Trump to ask him how his relationship with LeBron James is going.
"I guess you can't say great season, right? Good season. Last season was a great season. Right? Anyway," Trump said.
Trump then asked Gilbert to take a picture with the team and asked Cubs' manager Joe Maddon to ask Gilbert how he's "doing with LeBron." After his statement, Trump appeared to smile. Gilbert responded, "good, yeah."
A month before the presidential election, James endorsed Hillary Clinton. In an op-ed in the Akron Beacon Journal, James wrote that "Only one person running truly understands the struggles of an Akron child born into poverty."
Gilbert and James, meanwhile, aren't exactly on the best terms.
Speculation has swirled that James is weighing an exit from the Cavs as a free agent next summer. There have also been reports that James' relationship with ownership might be rocky after Gilbert declined to offer general manager David Griffin a contract extension. James was reportedly not informed of the Cavaliers' decision to part ways with Griffin and had endorsed him in an interview with ESPN in April.
READ: Twitter Reacts To Chicago Cubs Player Who Flipped Off President Trump During White House Visit
"It makes no sense why he shouldn't get an extension," James told ESPN. "He's pulled every move -- he's tried to make every move happen -- to better this team to be able to compete for a championship. So we wouldn't be in this position, obviously, without him and without the guys that are here -- from the coaching staff to the players to Griff. He's been a big piece of it."
James showed support for Griffin in a Twitter posting on June 19.
Griffin had been general manager of the Cavaliers since May 2014. He had taken control of the team when James came back from the Miami Heat. Griffin was responsible for the deal that brought Cavaliers forward Kevin Love from the Minnesota Timberwolves, which strengthened the roster for the subsequent season.
READ: NBA Rumors: Would LeBron James Want To Play For The Lakers Or Clippers?
Griffin also fired former Cavalier coach David Blatt during the 2015-16 season and when the team had a very respectable record of 30-11. Tyronn Lue replaced Blatt and helped lead the Cavaliers to a 2016 NBA title. Griffin's departure apparently came as a surprise to many given his seemingly successful tenure. Gilbert released a statement regarding Griffin's support of the team.
"On behalf of the entire organization, I would like to thank Griff for his leadership and many contributions during his time here, including most recently, his role in the franchise's first NBA Championship," Gilbert said in a statement June 19.
"We have no announcement at this time related to new leadership of the Cavaliers basketball operations group, but we are confident our current front office will continue to aggressively explore and pursue opportunities to improve our team in the weeks ahead."
Gilbert further explained in the statement that there would be "no announcement at this time related to new leadership of the Cavaliers basketball operations group."
The Cavaliers have reportedly been in talks with former Detroit Pistons star Chauncey Billups for the position.
© Copyright IBTimes 2023. All rights reserved.