WATCH: Teacher Slaps Student 40 Times For Not Answering Attendance Call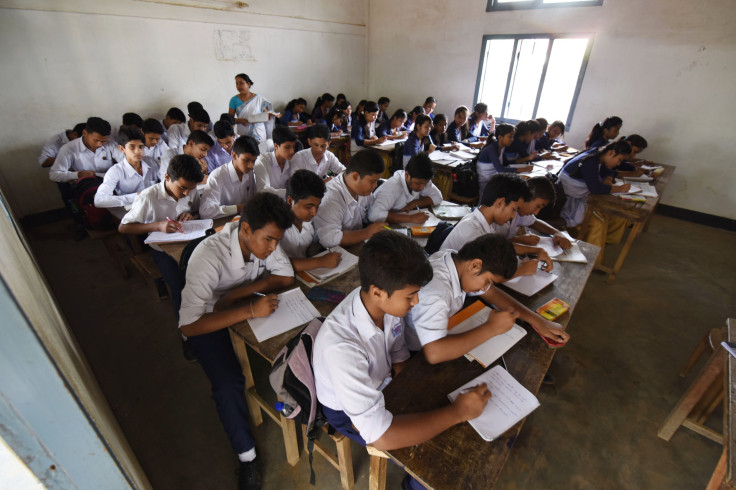 The CCTV footage of an Indian teacher repeatedly slapping a student from third grade has gone viral on social media, sparking outrage among viewers.
The incident took place Aug. 30 in St. John Vianney School in Lucknow, Uttar Pradesh. The teacher, who carried out what many are calling a monstrous act, was identified as Retika V John, NDTV reported.
In the clip, John is seen hitting the boy mercilessly with both her hands, as a shocked classroom watches in silence.
It is believed that the student, whose identity was withheld due to safety purposes, failed to answer the attendance call for the day as he was concentrating on drawing. This infuriated the teacher, who called the student to the front of the class and started beating him.
The video shows the child standing with his head bowed, as the teacher continues slapping him. In between the slaps, John is also seen pulling the student by his tie and shoving him in the chest.
By the time he went back home late, his face was swollen. It was only when his parents reached out to his close friends that they came to know of the ordeal their son faced in school.
Investigations are on after the boy's father lodged a formal complaint with the police. The head of the institution promised the parents they would be moving for immediate suspension of the teacher.
"School principal asked for the reason behind this inhumane behavior over which the teacher answered that she got angry," the father of the student said, India Today reported.
Sunita Swaraj, the principal of the prestigious Heritage School condemned the action of the teacher. "Teachers deal with these young minds, and they cannot be insensitive towards them," Swaraj said. "We usually counsel a student."
Right of Children to Free and Compulsory Education (RTE) Act, 2009, under Section 17 of the Indian Constitution, prohibits "physical punishment" and "mental harassment" and makes it a criminal offence.
People who came across the video on Facebook were enraged by the behavior displayed by the teacher and demanded her removal.
"This is criminal. The lady should be kept away from children immediately and sent for a psychological evaluation and therapy, if necessary," wrote one user on Twitter, where the video was also shared.
Another user commented: "Atrocious behavior! He could have easily lost conscious. She should be debarred and black listed. Pls post action taken by educational dept."
Yet another concerned user was shocked to learn that the kid was being punished brutally for not answering to an attendance call. "Not responding to attendance? Are you sure? She treats him like he had committed a crime like rape or murder," the user tweeted.
The following are a few more reactions:
© Copyright IBTimes 2023. All rights reserved.