What Consequences Could Joe Rogan Face After Alex Jones Podcast Episode?
Joe Rogan invited controversial Alex Jones on his podcast, "The Joe Rogan Experience," on Tuesday and now he's receiving repercussions.
Not only did Tuesday's episode start conversations on social media and spark anger from listeners, but Spotify employees have flagged it to be reviewed and possibly removed from the platform.
Spotify acquired Rogan back in May for more than $100 million, shooting the stock shares for the platform up 50%. It's also been Spotify's No.1 show since September, according to the Wall Street Journal.
Rogan, who already was facing some flack for his conversation about the transgender community with Abigail Shrier, received more backlash when he brought Jones on the show.
Listeners took to social media and either loved Rogan's not caring personality or thought it was inappropriate to have such a controversial guest on the show.
This conversation even made it into a thread on Spotify's Slack, #ethics-club.
There were instructions and information put into the chat on how to flag various content that's posted to the website/app that's then sent to the trust-and-safety team, Wall Street Journal says. After the flags are put in, the team will take another look at the content and determine whether or not it violates policies and should be removed.
The Tuesday episode of the Podcast is now undergoing that review.
After posting this news on social media, people shared their thoughts again.
One user tweeted, "Offended, offended OFFENDED!! Everyone's freaking offended. You don't like it don't listen to it!
Another said, "All the "free speech" advocates here won't acknowledge that Spotify can do what they want with their database. Rogan can broadcast from home all he wants but you are not entitled to someone else's platform."
It's unconfirmed when the decision by the trust-and-safety team will be made and what the decision might be.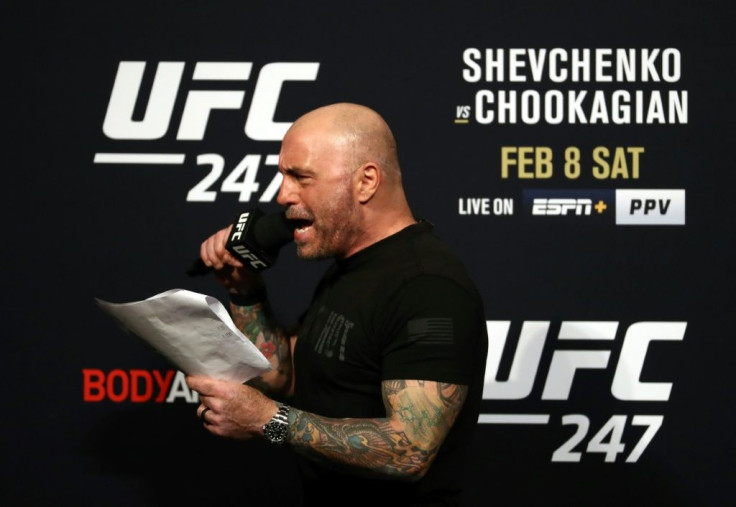 © Copyright IBTimes 2023. All rights reserved.