Joe Rogan Fans Attack Him For 'Unforgivable' Alex Jones Interview
Podcaster Joe Rogan hosted banned conspiracist Alex Jones on his show Tuesday, sparking controversy for fans of the "Joe Rogan Experience," as well as social media users and the Spotify company.
Jones, described a "far-right conspiracist," used to have his own podcast on Spotify. It was canceled in 2018 because it violated its "prohibited content" policies, according to Business Insider.
Episode #1555 of the "Joe Rogan Experience" immediately started receiving negative comments for having Jones on the podcast. One fan took his own opinions to Twitter.
"Joe Rogan platforming Alex Jones to millions of people a week before this election, and letting Jones propagate Joe Biden smears and pro-Trump propaganda has gotta be one of the worst things he has ever done. I've defended Rogan for a while, but this is unforgivable."
On the podcast, he talked about things like anti-vax conspiracies and played banned Infowars videos, which is Jones' website. He also spoke about coronavirus conspiracies and hammered on the Joe and Hunter Biden "scandal" one week before the presidential election.
Another user tweeted, "Alex Jones posted death threats against me. He called Sandy Hook a hoax and harassed mourning families. Now he is lying about #covid vaccine. His hate speech is not just vile-it's dangerous. WTH @Spotify?"
Rogan did have some praise from some of his fans and followers for bringing someone like Jones on the show and back onto the Spotify platform. The podcast host posted a photo of the episode on his personal Instagram page and received over 10,000 comments.
One follower said, "Amazing!!!! Thanks for bringing Alex back, Joe. I'm sure low IQ Spotify employees aren't happy."
Another said, "So happy to see you didn't cave on to Spotify censorship."
Back in September, Rogan received a few complaints about hate speech and the violation of some policies in his podcast episodes. Transphobia was mentioned on some level, which broke company rules, Business Insider reports.
His fans are split when it comes to whether or not they believe Jones should or shouldn't have been featured on his podcast. Jones has also been trending on Twitter since Wednesday morning in association to his appearance on the show.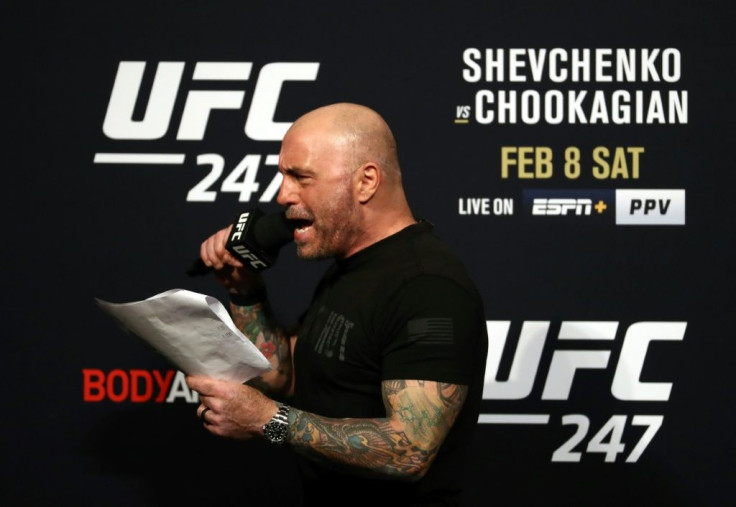 © Copyright IBTimes 2023. All rights reserved.