What Does Kohl's Deal With Sephora Mean For The Retailer And Its Customers?
Kohl's (KSS) has teamed up with beauty retailer Sephora to add a new shopping experience for its customers in another attempt to attract foot traffic into its stores.
The long-term partnership between the two companies will add 200 Sephora at Kohl's locations at stores that will open in fall 2021, with at least 850 locations set to open by 2023.
The Sephora at Kohl's locations will encompass 2,500 square feet of space and be prominently located at the front of each store, replacing its current beauty display. Kohl's e-commerce site will also include Sephora's beauty product offering.
The Sephora at Kohl's collection will offer 100 curated brands of makeup, skincare, hair, and fragrance products. There will also be testing and discovery zones as well as a rotating assortment of new, emerging, and trending products.
Each location will be staffed by Sephora-trained beauty advisors, and customers will receive Sephora rewards benefits through the retailer's rewards program when they make purchases in the shop. Kohl's will offer in-store returns, in-store pick-up, and curbside pickup of Sephora at Kohl's products.
By partnering up with the beauty retailer, Kohl's is banking on drawing in new and younger customers into its stores, while Sephora is looking to bring its product to the apparel retailer's customer base of 65 million consumers.
The companies also said there is very little overlap between their two store networks as Sephora has 500 out of 2,600 stores located in the Americas while Kohl's has 1,150 stores in 49 states.
"This new collaboration is an excellent example of two customer-centric, purpose-driven companies leveraging each other's strengths to make aspirational beauty far more accessible to millions of customers all across the country," Michelle Gass, Kohl's CEO, said in a statement. "It's an extraordinary time of change, and I am thrilled to partner with Sephora, a brand that shares our values and our passion for innovation and reinvention."
The venture with Kohl's builds on Sephora's 2009 deal with JC Penney - a partnership that it looked to walk away from earlier this year as the retailer was heading towards bankruptcy. The two companies wound up in a lawsuit but were able to work out their differences. The deal between the two retailers still stands but at a smaller scale as JC Penney closed a number of stores in bankruptcy.
Adding to the interest in Kohl's deal with Sephora is another deal that was struck by beauty rival Ulta with Target, which will place 100 mini shops within its stores next year, expanding to hundreds more over time.
Jean-André Rougeot, President & CEO of Sephora Americas said in a statement about the deal with Kohl's, "This is not a pop-up collaboration, but an investment our brand partners can rely on for the long-term; as a company with a history of sustained decades-long partnerships, Sephora has every confidence in the future of this collaboration and the unique experiences it will bring to consumers across the U.S."
Shares of Kohl's were trading at $36.73 as of 2:32 p.m. EST, up $4.53 or 14.07%.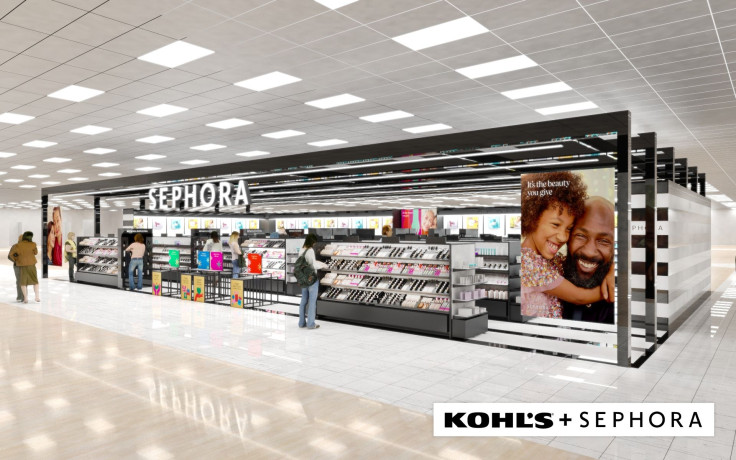 © Copyright IBTimes 2023. All rights reserved.