What Doomed Amtrak Train's Black Box Will (And Won't) Tell Probers About Fatal Derailment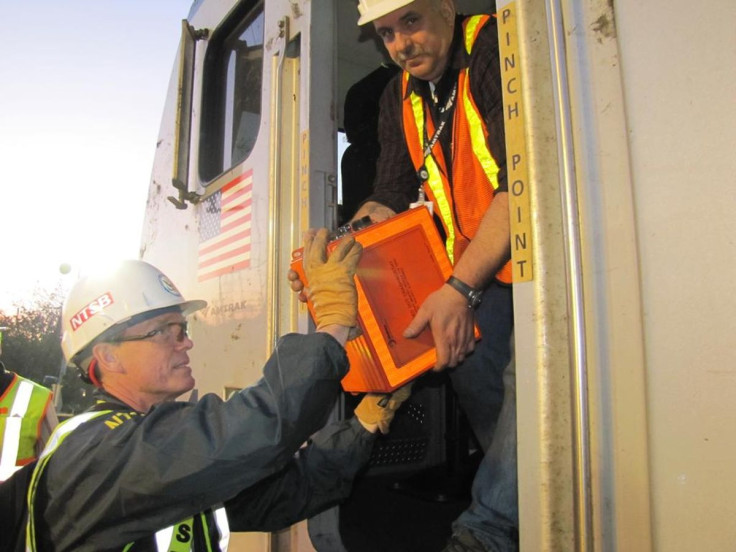 Just like when a plane goes down, one of the first things investigators look for when combing through a train wreck is the black box -- a piece of equipment that holds the keys to what was happening at the time of the crash. The National Transportation Safety Board on Wednesday said the black box on the Amtrak train that derailed in Philadelphia this week showed that the train was going over 100 mph, twice the speed it should have been traveling as it rounded a bend on its way to New York City.
But it will show a lot more than that, once investigators get it to a lab to download and analyze all the data. The information could be critical in determining whether engineer Brandon Bostian was negligent or was himself a victim of mechanical failure.
The box, which is actually bright orange so it's easier to spot amid wreckage, will reveal the train's speed, direction, throttle position, brake applications and the status of electrical systems, among other things. "It's a really good tool" for investigators, who will try to piece together what caused the accident, which so far has caused eight fatalities and more than 200 injuries, said Texas-based railroad operations consultant and lawyer Charles "Smokey" Culver.
Unfortunately for the victims and their families, the process could take weeks, or even months, based on previous incidents such as the 2013 crash of a Metro North commuter train outside of New York City, which caused 70 injuries. "The railroad has first access," Culver said. "It's a controversial subject."
The event recorder from the Philadelphia crash was first brought to a lab in Delaware, where information was retrieved, and then taken to a D.C. facility for a "more detailed recovery," an NTSB spokesman said. The NTSB usually leads crash investigations. Probers from the Federal Railroad Administration will also examine the device.
Event recorders -- the industry-preferred term for black box -- are now required by federal law to be installed in all trains that travel over 30 mph, so for most passenger trains, there's a machine recording its stats. Federal law also strictly dictates what the event recorder looks at, including how fast the train is going, where it's going, and the position of the throttle and other controls. Newer event recorders can even record whether the train's horn was blown. Event recorders take this data every second or tenth of a second for a period of 48 hours or more, and then the recordings are subsequently overwritten with newer data.
The companies that produce event recorders for railroads usually shy away from publicity. Some of the biggest suppliers to Amtrak include Wabtec, of New York City, and Canada-based Bach-Simpson, according to Culver.
According to a 2012 "next-generation" Amtrak specification, Amtrak trains should be equipped with a Wabtec model 17792 event recorder. Used models are available on eBay for roughly $2,000 each.
Event recorders have come a long way from when they used to record their data onto magnetic tapes. It's easy to get data off a modern black box -- most of the time, investigators can plug a laptop into a train event recorder through a USB cable and download the information that way. They will then manipulate the data on a computer screen in database software such as Microsoft Access.
One thing that event recorders aren't required to include is GPS -- so when recreating the scene of an accident, often investigators need to extrapolate position from the train's last stop and distance traveled. Distance and speed are often calculated in an event recorder using a train's wheel diameter. This can add time to investigations, as experts not only need the time when an action took place but also its precise location. "Some might have GPS, but it's rare to see it," Culver said.
Recently, rail companies have been pairing their black boxes with cameras mounted to the front of the train. (Amtrak's 2012 specification suggests these should be made by Wabtec as well.) The doomed train out of Philadelphia was equipped with a forward-facing video recorder, pointed at the track in front. This should help investigators confirm the data taken from the event recorder is accurate. The video recorder is usually equipped with a microphone as well, so audio is also captured. "Using the two separate devices, you can find distances side by side based on video," Culver said.
The investigation into the crash is ongoing.
FOR FREE to continue reading
✔️ Unlock the full content of International Business Times UK for free
offer available for a limited time only
✔️ Easily manage your Newsletters subscriptions and save your favourite articles
✔️ No payment method required
Already have an account?
Log in
© Copyright IBTimes 2023. All rights reserved.