What To Know About Equinox SUV: GM Looks To Gain More Ground In Competitive EV Market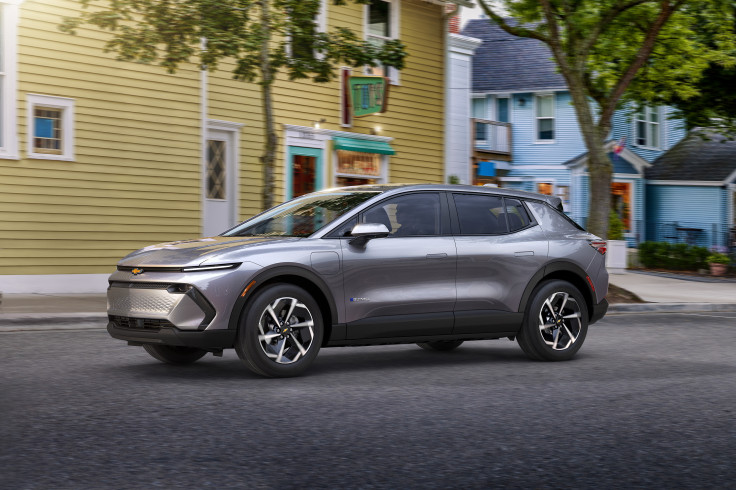 General Motors (GM) is looking to edge out Tesla with a fully electric vehicle that will be one of the lowest priced vehicles on the market, priced at around $30,0000.
The Detroit-based automaker will usher in the Chevrolet Equinox EV SUV in fall 2023.
With the more affordable price point, GM expects the 2024 Equinox EV to be its main seller as it looks to offer only electric cars and trucks in its lineup by 2035.
"We think this is our big opportunity here to really start to get a massive adoption, and we have that expectation with the price; the volume that we expect to do," Scott Bell, global vice president of Chevrolet, said during a media briefing where the Equinox EV was announced. "This is a game changer for us and for the industry."
GM will have one of the lowest-priced EVs in the industry -- less than half the average cost of electrified vehicles on the market.
According to Cox Automotive, and as noted by CNBC, the average price of an EV in the market today is $66,000 plus, which it said is the main stumbling block for car buyers. Lower-priced electric cars could be a crucial catalyst to lure wary consumers.
While GM also produces the low-priced Chevy Bolt EV, it has been wrought with issues that have plagued the manufacturer. A number of recalls have been issued for the electric car over battery fires that have cost GM $2 billion.
Sales of the Chevy Bolt, which hit the market in December 2016, never got to an excitable level for GM as its annual sales have not reached 25,000 units yet, CNBC noted.
The Equinox EV will be equipped with GM's next-generation Ultium electric vehicle platform and offer up to 300 miles of range, depending on model and battery pack. Horsepower on the EV will range from vehicle variation as well, with an expected 210 horsepower and 242 foot-pounds of torque developed in the standard front-wheel drive model.
"The Equinox EV is an EV for everyone," Bell said. "It's an affordable game-changer, offering an uncompromising experience, with more features, that won't change your daily routine — except that you will no longer have to stop at the gas station."
The Equinox EV will be produced at GM's Ramos Arizpe plant in Mexico, with capacity ramp up to roll out over the coming years and full production to be reached by the first quarter of 2024, CNBC said.
GM's electric vehicle lineup also includes the Chevy Silverado pickup truck and Blazer SUV, as well as the Bolt models.
As of Thursday at 1:20 p.m. ET, shares of GM were trading at $40.14, down 4 cents, or 0.11%.
© Copyright IBTimes 2023. All rights reserved.