What Is Nikola Founder Trevor Milton's Net Worth? Founder Steps Down Amid SEC Investigation
The outspoken founder of hydrogen-electric truck maker Nikola (NKLA) has voluntarily stepped down from its board of directors as a Securities and Exchange Commission (SEC) investigation heats up following claims of "intricate fraud."
The announcement of Trevor Milton's departure comes less than two weeks after a partnership to develop and produce the hydrogen-electric Badger pickup truck was formed with General Motors (GE). The automaker announced an 11% stake in Nikola at the time of the Sept. 8 announcement.
Milton, who had a net worth of $1.1 billion as of April 2020, according to Forbes, will no longer sit as executive chairman on the Board of Directors at Nikola. The 39-year-old will be replaced by Stephen Girsky, former vice chairman of General Motors and member of Nikola's board, effective immediately.
In a statement, Milton said: "Nikola is truly in my blood and always will be, and the focus should be on the company and its world-changing mission, not me. So I made the difficult decision to approach the board and volunteer to step aside as executive chairman. Founding Nikola and growing it into a company that will change transportation for the better and help protect our world's climate has been an incredible honor."
In the Sept. 10 report, Hindenburg Research accused Milton of making fraudulent claims about the technology behind the Badger truck to further partnerships and grow the company. At the time, Hindenburg said that Milton misled investors, which spurred an investigation into the truck maker by the SEC, The Wall Street Journal reported.
The report said: "Trevor has managed to parlay these false statements made over the course of a decade into a - $20 billion public company. He has inked partnerships with some of the top auto companies in the world, all desperate to catch up to Tesla and to harness the EV wave."
Hindenburg Research claimed to have "recorded phone calls, text messages, private emails and behind-the-scenes photographs—detailing dozens of false statements by Nikola Founder Trevor Milton."
Following the release of the Hindenburg Research report, Nikola issued a statement that called many of the allegations by the firm "false and misleading." Nikola said the report was "designed to provide a false impression to investors and to negatively manipulate the market in order to financially benefit short sellers, including Hindenburg itself."
In a message posted to Twitter on Monday morning, Milton said that he "will be cheering from the sidelines." He ended the post by saying he was Nikola's "greatest fan."
Shares of Nikola were trading at $24.99 at premarket on Monday, down $9.20 or 26.91%. Shares of GM were trading at $30.45 also down $1.05 or 3.33% at the same time.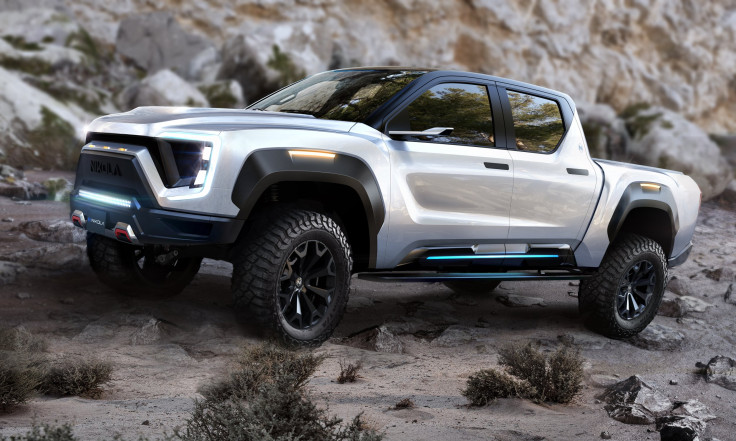 © Copyright IBTimes 2023. All rights reserved.