What Is A Pangolin? Chinese Vessel Filled With Meat From Protected Species Crashes Into Tubbataha Reef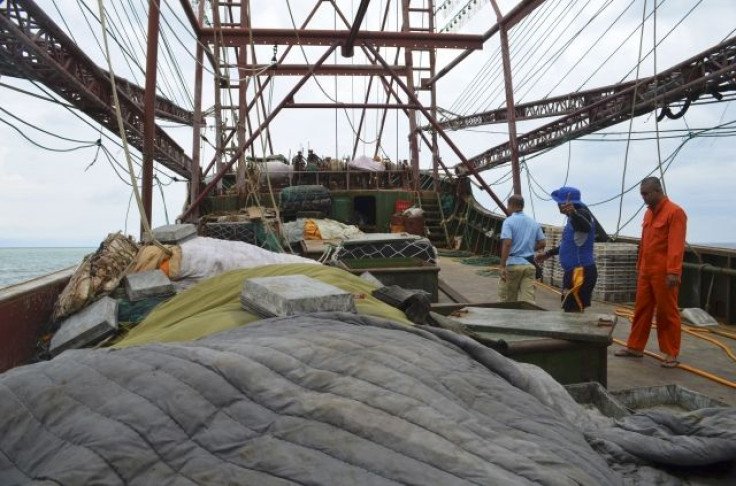 The Chinese vessel that struck a protected coral reef in the Philippines was also carrying more than 20,000 pounds of meat from an endangered species called the pangolin, authorities revealed Monday.
The steel-hulled fishing vessel struck a section of the Tubbataha National Marine Park on April 8. According to coast guard spokesman Lt. Cmdr. Armand Balilo, a second inspection of the boat revealed 400 crates containing thousands of pounds of frozen pangolin, the Associated Press reported Monday.
According to the World Wide Fund for Nature Philippines, the Chinese vessel F/N Min Long Yu may have been carrying as many as 2,000 pangolins, also known as the scaly anteater. The insect-eating animals were discovered with their scales already removed, AP reports.
"It is bad enough that the Chinese have illegally entered our seas, navigated without boat papers and crashed recklessly into a national marine park and World Heritage Site," Jose Ma. Lorenzo Tan, CEO of WWF-Philippines, told AP. "It is simply deplorable that they appear to be posing as fishermen to trade in illegal wildlife."
Each of the boat's 12 crew members are being held on charges of poaching and attempted bribery, according to Adelina Villena, the marine park's attorney. Authorities are planning on leveling more charges against them, including violations of the Philippines' laws against the possession of pangolin meat, AP reports.
Authorities have yet to determine which species of Asian pangolin was found in the crates. According to the International Union of Conversation of Nature, two species, the Sunda and the Chinese pangolin, are endangered. Another two species, including the Philippine pangolin, are classified as near threatened.
While an international ban on the trade of pangolins has stood since 2002, their sale continues on the black market. The meat and scales of the pangolin are hot commodities in China, where some believe that they have healing properties.
The ongoing illegal pangolin trade has forced Philippine authorities to declare the animal endangered, AP reports. While the vessel's Chinese crew members claim that their cargo of pangolins came from Indonesia, officials have yet to verify the claim.
This isn't the first time the Tubbataha coral reef has sustained damage from a passing ship. In January, a U.S. Navy ship struck the reef, causing extensive damage and resulting in the ship's destruction, AP reports.
The Chinese vessel's crew members face fines of up to $300,000 and as many as 12 years of imprisonment for the pending poaching charges. The possession of pangolin meat could lead to an additional six years in jail, Villena told AP.
© Copyright IBTimes 2023. All rights reserved.