What Time is Super Bowl 2012? Kickoff at 6:30 p.m. EST; Live Stream Pre-Game Coverage Now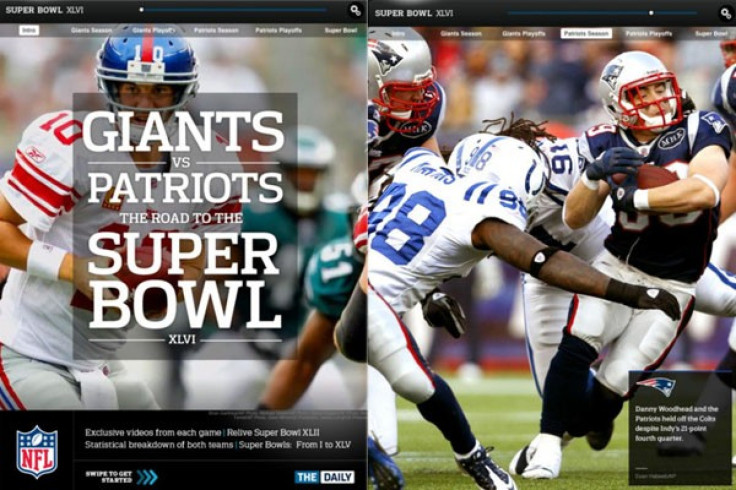 Football fans, if you are hyped about watching the 2012 Super Bowl then you will be glad to know that several options are available to you this year. Kickoff is less than a half hour away and can be watched on NBC at 6:30 p.m. EST. If you don't have a television, the 2012 Super Bowl will be live streamed online for the first time at NBCSports.com and at NFL.com. (Watch pre-game coverage here.)
But wait, that is not all.
The NFL has teamed up with Verizon so that you can also watch the New England Patriots (15-3) and the New York Giants (12-7) go head-to-head on your mobile via the NFL Mobile (iOS, Android) app.
As the official wireless provider to the NFL, Verizon is letting users download NFL Mobile Premium on their devices to get the live video app feature and much more. Users with 4GLTE-ready devices will get the premium service app is free. Those with 3G capability will have to pay $10 per month to watch the live video streams.
When the Patriots and the Giants met in the 2008 Super Bowl game, the outcome was a 17-14 victory by the Giants over the previously undefeated Patriots.
Can the Giants take it home again once more or will the Patriots stop their show? Check out the pre-game and full match here.
Super Bowl XLVI comes to you live from Lucas Oil Stadium in Indianapolis and Al Michaels and Cris Collinsworth will provide commentary.
© Copyright IBTimes 2023. All rights reserved.