What Is The Trans-Pacific Partnership And Why Does It Matter?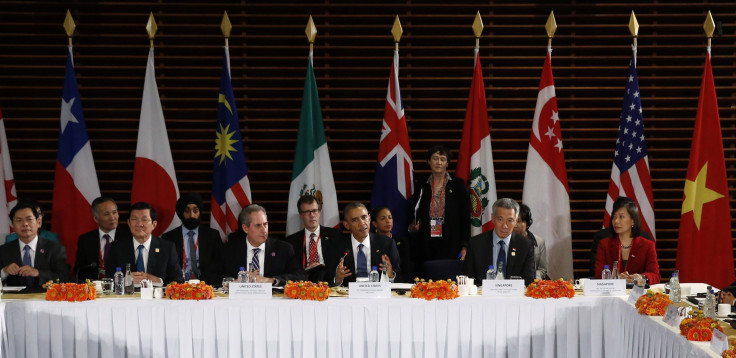 As world leaders gather in Beijing on Monday for the annual two-day Asia-Pacific Economic Cooperation, or APEC, summit, one of the issues under discussion would be the 12-nation Trans-Pacific Partnership, or TPP, pact.
U.S. President Barack Obama said on Monday that TPP has "the potential for being a historic agreement," as he opened trade talks being held on the sidelines of the APEC summit, according to media reports. U.S. officials had earlier ruled out any major announcement on TPP, which has been under negotiations for nearly a decade now. But, as of now, several sticking points between the U.S. and Japan have held up the TPP from becoming a reality.
"There certainly will not be a final agreement, an agreement, a major announcement," Michael Froman, the U.S. Trade Representative, said on Sunday, according to Reuters. "This is an opportunity when we have leaders altogether in one place for them to take stock of where they are and give political impetus to complete the rest of the negotiations."
So what exactly is the Trans-Pacific Partnership?
TPP is a proposed free-trade deal between the U.S., Canada and 10 countries in the Asia-Pacific region. The pact, which is aimed at deepening economic ties between these nations, is expected to eliminate or substantially reduce tariffs on the trade of goods and services between member nations, and boost investment flows.
It originally began as the Trans-Pacific Strategic Partnership Agreement between Singapore, Chile, New Zealand and Brunei in 2006, before the U.S. took the lead in 2009.
Obama has made the TPP a major focus of his efforts to boost U.S. economic investment in Asia, which he has reportedly called "the fastest-growing, most populous, most dynamic region in the world economically." The pact is also being seen as an effort by the U.S. to counter China's influence in the region.
Why does TPP matter?
The total GDP of the current TPP parties is approximately valued at $27.5 trillion -- 40 percent of global GDP and one-third of world trade -- according to an estimate by The Brookings Institution, a Washington-based think tank. The list of proposed member nations also includes some of America's biggest trade partners in the Asia-Pacific region.
According to a statement by the Office of the United States Trade Representative, TPP will "provide new market access for Made-in-America goods and services, strong and enforceable labor standards and environmental commitments, groundbreaking new rules on state-owned enterprises, a robust and balanced intellectual property rights framework, and a thriving digital economy."
What is the status of the negotiations?
TPP discussions have hit hurdles amid resistance from some prospective members, including Japan, to opening their domestic markets too widely to foreign participation.
Negotiations have been stalled since September 2013, as the U.S. and Japan reportedly blamed each other for a stalemate over tariffs on farm products. The U.S. has insisted that Japan lower "barriers" to import of agricultural and dairy products -- a demand that has reportedly been met with stiff opposition from Tokyo, which wants to protect sensitive domestic industries dealing with pork, beef, dairy and sugar.
Japan, on its part, has alleged that the U.S. wants to protect domestic carmakers from Japanese competition by refusing to remove tariffs on car imports.
Meanwhile, China, which is not a part of the deal, is pushing for a separate trade agreement called the Free Trade Area of the Asia Pacific, which is reportedly being seen as an attempt to divert attention from the TPP.
If the TPP goes into effect, China could lose at least $1 billion a year in exports, according to an estimate from the Peterson Institute for International Economics.
Is there any opposition to the deal?
The biggest criticism that has been leveled against the ongoing negotiations is the secrecy surrounding them. Some campaign groups have also raised concerns about the impact of such a wide-ranging agreement on national laws addressing intellectual property rights and patent enforcement.
Certain chapters from the agreement, leaked by Wikileaks last November, revealed that the U.S. has been pushing for stronger copyright protection for the music and film industries, as well as for broader patents.
Campaign groups have also reportedly expressed concern that the deal may extend the scope of patents in sectors such a medicine, promote "evergreening" and curb the distribution of generic drugs.
FOR FREE to continue reading
✔️ Unlock the full content of International Business Times UK for free
offer available for a limited time only
✔️ Easily manage your Newsletters subscriptions and save your favourite articles
✔️ No payment method required
Already have an account?
Log in
© Copyright IBTimes 2023. All rights reserved.