When Might Kevin Durant Return? Calf Injury Cost Warriors' Star A Week In 2018, Status Up In The Air
The Golden State Warriors avoided disaster when Kevin Durant left Wednesday night's Game 5 with what initially appeared to be an Achilles injury. The back-to-back NBA Finals MVP was eventually diagnosed with a calf strain, and the defending champs went on to defeat the Houston Rockets and take a 3-2 series lead in his absence.
An MRI Thursday will help determine the severity of the injury. Head coach Steve Kerr told The Athletic after the game that Durant won't play Game 6 Friday night in Houston.
When might Durant be able to return? While we don't know for sure, this is an injury that the forward has suffered before.
Durant strained the same calf on Jan. 3, 2018 in a regular season game against the Dallas Mavericks. He didn't leave the game right away as he did in Wednesdays second-round game. He was quickly ruled out for the next contest with no timetable for a return.
That injury cost Durant three games. He came back exactly one week later against the Los Angeles Clippers on Jan. 10, scoring 40 points on 14-18 shooting.
There was no real sense of urgency to get the Durant back on the court then. He was asked at the time if he would avoid rushing back to stay ready for the playoffs.
"I wouldn't say it's the end game. But more so, I need to feel better," Durant told Bay Area News Group in January of last year. "I'm not thinking about playoffs or how to get rest. I just want my calf to feel better so I can go out there and play the way I play. I don't want any restrictions out there."
This injury, of course, could be much more severe. If it's worse than a Grade 1 strain, Durant might have a hard time returning at all in the playoffs.
Game 7 of the conference semifinals against Houston would be set for Sunday, giving Durant fewer than four full days to rest after the injury.
Houston faced a similar situation against Golden State in last year's Western Conference Finals. Chris Paul suffered a hamstring injury in Game 5 when the Rockets took a 3-2 series lead. The point guard never returned, and Houston lost the next two contests, including a Game 7 at home.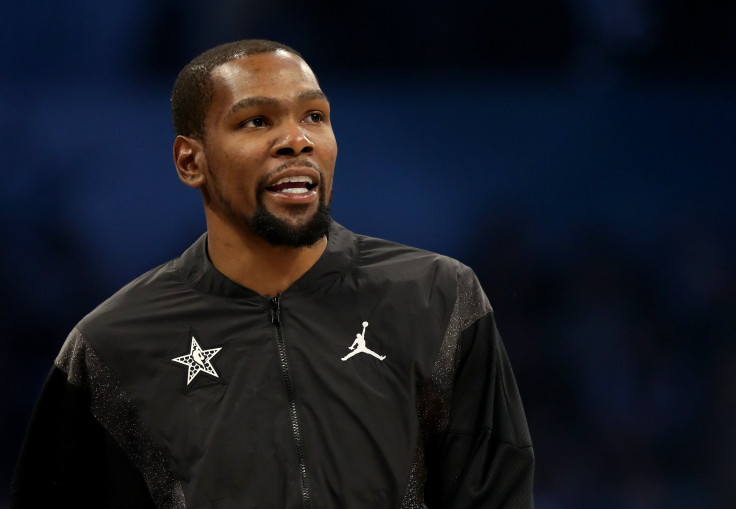 © Copyright IBTimes 2023. All rights reserved.