Where Did The Earthquake In Nepal Hit? Death Toll Climbs After Second Major Tremor Near Mount Everest [MAP]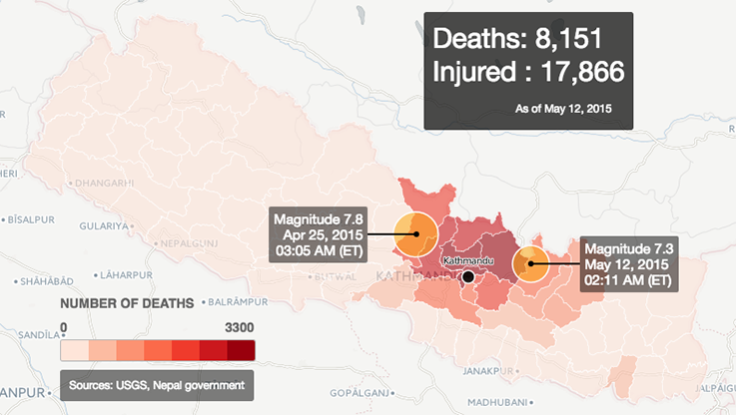 Updated as of 6:14 p.m. EDT: A series of aftershocks continued to affect Nepal, especially the capital city of Kathmandu, according to reports from social media.
Original story: Less than three weeks after the deadly 7.8-magnitude earthquake, Nepal was hit by another powerful earthquake on Tuesday morning, raising the death toll further to 8,151.
The 7.3-magnitude earthquake struck the district of Dolakha, some 47 miles northeast of Kathmandu, according to the U.S. Geological Survey. The epicenter was nearer to Mount Everest than the earlier one on April 25. It was followed by at least six aftershocks including a 6.3-magnitude earthquake 52 miles east of Kathmandu.
The Everest base camp had been evacuated after the quake last month killed 18 climbers.
As of Tuesday, Dolakha, known for the Dolakha Bhimeshwar temple, has seen 77 deaths and 304 injuries. In the neighboring district of Sindhupalchok, one of the worst-hit districts in the disaster last month, the death toll increased from 3,107 to 3,213 on Tuesday, and the injuries remained at 859.
Collapsed buildings and landslides were reported within and outside of Dolakha.
According to Nepalese government figures, nationwide nearly 300,000 buildings were destroyed, and a further 270,000 buildings were partly damaged by the earthquakes.
As earthquake magnitudes are measured based on a base-10 logarithmic scale, the 7.8-magnitude tremor was three times bigger and released 5.6 times more energy than the latest 7.3-magnitude earthquake. The depth of Tuesday's earthquake was 9.3 miles below the surface, the same as last month's. The shallower the depth, the more damage caused at the surface.
Earlier Reuters cited local officials as saying that over 300 people have been injured and at least two were killed in the latest earthquake. Tremors were felt as far east as Kolkata and as far south as Chennai, according to local reports.
© Copyright IBTimes 2023. All rights reserved.
FOLLOW MORE IBT NEWS ON THE BELOW CHANNELS