Where Do Tigers Live? Thailand Wild Breeding Population Hailed As 'Miraculous' Amid Poaching
There may be hope for the critically endangered Indochinese tiger yet. Wildlife cameras recently confirmed a breeding population of the tigers in eastern Thailand — only the second ever located, and the first to be found in more than 15 years. Thailand's Department of National Parks, Wildlife and Plant Conservation, counter-trafficking organization Freeland and nonprofit wild cat conservation organization Panthera hailed the discovery as "miraculous" in a news release Tuesday.
The groups teamed up to monitor the wild tiger population in Thailand by placing cameras in trees earlier in the year. The images captured on the cameras provided the first tangible estimate of tigers in the area as well as images of cubs, proving that Indochinese tigers were breeding freely in eastern Thailand.
Read: 25,000 Elephants Killed By Poachers In Single Sanctuary Park
"The extraordinary rebound of eastern Thailand's tigers is nothing short of miraculous, and a true testament to the [department's] commitment to saving its most precious natural resource," Panthera senior tiger program director John Goodrich said in the release.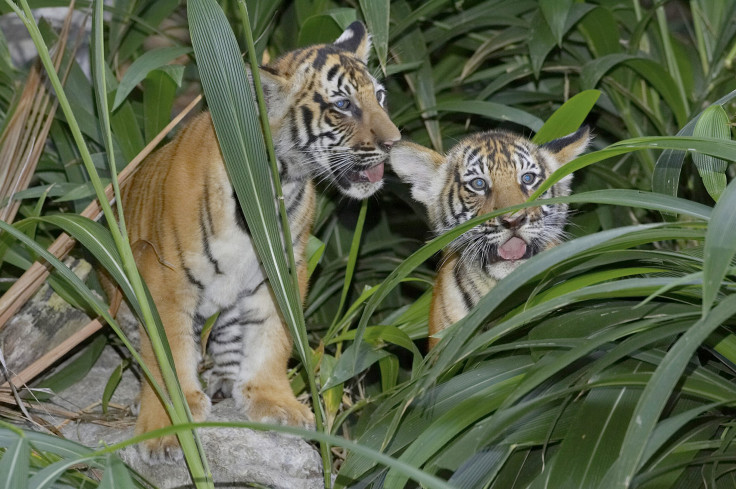 Indochinese tigers are in serious danger of being wiped off the planet for good. Previously found in China, Cambodia, Laos and Vietnam, the small tiger subspecies is now found only in Thailand and Myanmar. Only an estimated 220 of the creatures still live in the wild. The population of Indochinese tigers has fallen by more than 70 percent in a single decade, according to the World Wildlife Fund. Locating a breeding population means the subspecies could potentially rebound further and the species could come back from the brink of extinction.
However, the tigers were still up against a multitude of obstacles in their quest to survive. Poaching and illegal trading of the animals, combined with ineffective policing and habitat loss, have caused Indochinese tiger populations to plummet.
"As long as the illegal trade in tigers continues, they will need protection," Kraisak Choonhavan, Freeland's chairman of the board, said in a news release. "Counter-wildlife trafficking starts at the source. Here is a modern project that has helped to bring rangers and police together that should be replicated across all other tiger range countries, so these populations can recover."
© Copyright IBTimes 2023. All rights reserved.