Where Will Hurricane Joaquin Hit? State Of Emergency Declared In South Carolina, North Carolina, Maryland And More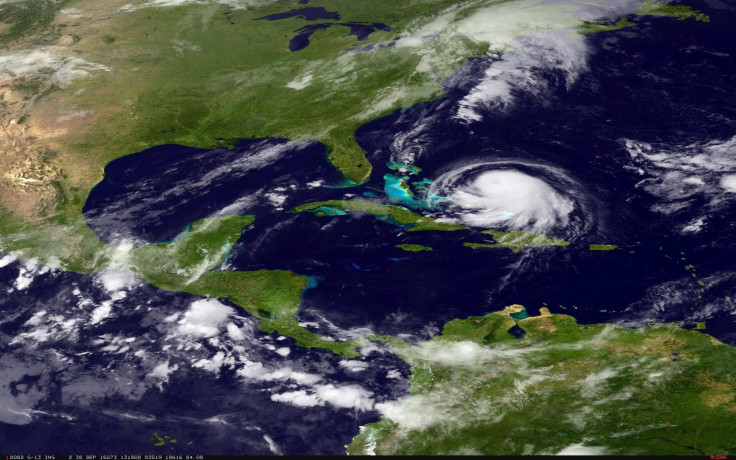 As Hurricane Joaquin gained strength Thursday, upgrading to a Category 4 storm, cities along the U.S. East Coast made plans for weathering the storm. Although the hurricane's ultimate path was hard to predict, governors in several states declared a state of emergency -- a necessary step in making them potentially eligible for federal disaster relief funding.
States declaring emergencies included South Carolina, North Carolina, Maryland, Virginia and New Jersey, the Associated Press reported. The same states were affected, to different degrees of severity, by Superstorm Sandy in 2012.
"I'm not here to say Sandy II is coming. I have no way of knowing that. But what I want people to know is if it did, we're as prepared as you could be to deal with it," New Jersey Gov. Chris Christie said, as Philadelphia's WPVI-TV reported. Christie, a Republican who is running for president, also canceled all of his campaign appearances in New Hampshire until Tuesday. He said that he would consider evacuations in New Jersey if necessary. "We're not there yet, and if we are going to be there, my guess is we'd be there in 12 to 24 hours and we'll let people know."
With memories of Superstorm Sandy likely fresh in his mind, New York Gov. Andrew Cuomo said his state was better prepared for Hurricane Joaquin's potential landfall.
"I have learned the hard way that it is better to prepare for the worst," Cuomo told the New York Times. "In the past, we did not take the worst-case scenario into full consideration. And we paid the price."
Cuomo said the entire state was under flood watch, equipment and boats were being prepared in case evacuations were needed and crews from central Pennsylvania were available to help along the Atlantic coast, according to the New York Times.
Hurricane Joaquin pounded the Bahamas on Thursday and was expected to turn northward over the next several days. Regardless of the storm's ultimate path, the East Coast will likely experience heavy rain and flooding.
© Copyright IBTimes 2023. All rights reserved.