White House Replacing CGI Federal, Maker Of Glitch-Ridden Obamacare Website, With Accenture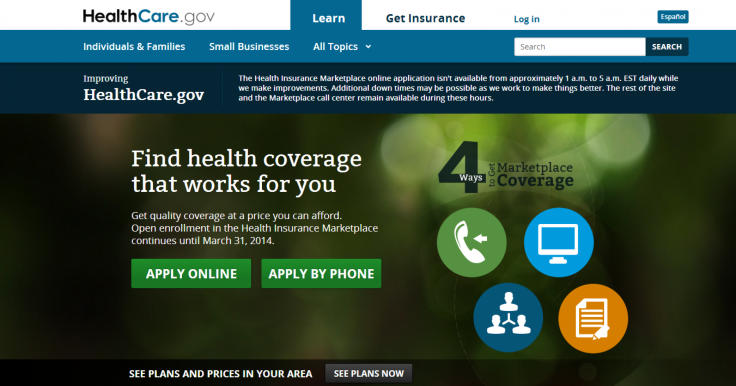 The Obama administration has terminated its contract with CGI Federal, the main company responsible for the glitch-ridden federal website HealthCare.gov that administers Obamacare, officially known as the Affordable Care Act, and replaced it with Accenture PLC, the Washington Post reported Friday.
Federal officials determined that CGI had not effectively fixed the computer system behind the HealthCare.gov website and decided to sign a 12-month contract worth $90 million, probably next week, with Accenture, which is based in Ireland but has operational headquarters in Chicago, according to the newspaper's report. Accenture is the large consulting firm that built California's new health insurance system, but it has not worked extensively for the federal government before.
CGI's contract was set to run out at the end of February. Federal officials had the option to renew the contract for another year or not renewing it.
The site has continued to malfunction in numerous ways since its debut on Oct. 1, though increasingly, Americans have used the site to sign up for health coverage that took effect Jan. 1. The site cannot automatically enroll people eligible for Medicaid in state programs, calculate amounts to be sent to insurers for users' federal subsidies, or calculate how much users have paid for their insurance premiums to inform them of their coverage.
The Centers for Medicare and Medicaid Services did not confirm the Washington Post story but did acknowledge a "transition" was under way: "We are working with our contract partners to make a mutually agreed upon transition to ensure that HealthCare.gov continues to operate smoothly for consumers. We continually evaluate our needs and remain focused on ensuring consumers have access to affordable, quality coverage, and more than 1.1 million already have enrolled in a private plan in the federal marketplace."
© Copyright IBTimes 2022. All rights reserved.
FOLLOW MORE IBT NEWS ON THE BELOW CHANNELS