Whitney Houston Funeral: Live Blog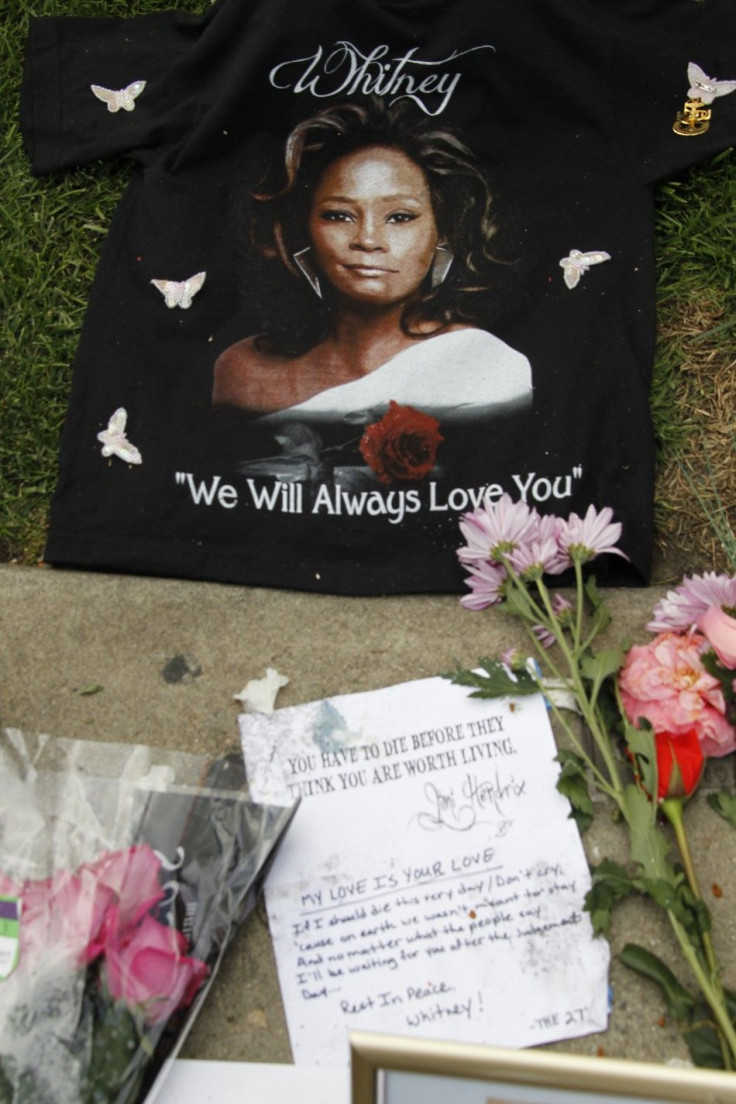 3: 41 p.m. ESTAs the casket leaves the church, I Will Always Love You plays over the loudspeakers.
3:24 p.m. EST The New York Times reporter Sarah Maslin Nir tweets a clearer photo of the program.
3:22 p.m. EST New York Daily News reporter on the scene tweets a photo of the funeral's program.
3:12 p.m. EST Marvin Winans retakes the stage to offer thanks and deliver the final eulogy, belting we'll never grow old.
3:09 p.m. EST The entire Winans family belts out their signature Tomorrow.
3:05 p.m. EST Al Sharpton makes a tweet about Bobby Brown's rage.
3:03 p.m. EST The Pastor invites the entire Winans family onstage.
2:59 p.m. EST Pastor Marvin Winans delivers the eulogy.
2:54 p.m. EST Rickey Minor takes the lecturn: I didn't take me long to realize, I love Whitney Houston.
2:53 p.m. EST Winans closes with a quick Jesus Loves Me.
2:48 p.m. EST Cece Winans takes the stage to do Don't Cry for Me, an apropos song of her own credit. 168,540 viewers.
2:45 p.m. EST Dionne Warwick takes the lecturn to say how I feel about my Nippy. She reads a poem by Shannon Lee Moseley, I'm Free.
2:41 p.m. EST Singer R Kelly takes the stage for an emotional version of Whitney's own I Look to You. 169,865 viewers.
2:35 p.m. EST For those of you who were unable to view her body: Imagine her performance in 'The Greatest Love of All.' The way that she looked. The way that she looked, Houston said.
2:30 p.m. EST The good she did she could be forgotten but she did good anyway, Houston says. It is my prayer that you will remember her with the love she gave to everyone. 171,313 viewers.
2:27 p.m. EST Houston says: She lived a charmed and beauitufl life, a life not always understood, even by herself.
2:23 p.m. EST Pat Houston takes the lecturn in tribute to her sister. 175,657 viewers.
2:17 p.m. EST Wonder does a second track, Love's In Need of Love Today off Song In The Key of Life.
2:12 p.m. EST Wonder worries about singing Houston's favorite song, Ribbon in the Sky but follows it up with a lyrically modified/abridged version in tribute to Houston.
2:10 p.m. EST We loved her so much and that won't stop, Wonder says.
2:09 p.m. EST The Hollywood Reporter writes Bobby Brown walked away from the funeral before services began, citing a seating dispute.
2:08 p.m. EST Stevie Wonder takes post behind the piano.
2:07 p.m. EST We need to treat them with dignity and we need to treat them with love and stop ridiculing them, Watson says in regard to entertainers. This lady right here? She loved you.
2:04 p.m. EST Viewers on Twitter are curious about something Warick said in introducing Franklin, calling her Houston's godmother. Franklin had been named as her godmother, but Houston had more than one. 174,613 viewers.
1:58 p.m. EST Warwick introduces Aretha Franklin, but Franklin could not attend. Ray Watson comes to the stage instead.
1:45 p.m. EST Clive Davis, one of Houston's most celebrated speakers, honors her. 180,924 viewers.
1:39 p.m. EST People reports Bobby Brown was fully denied entrance to the funeral.
1:34 p.m. EST Alicia takes a seat behind the piano. I was just thinking about the way it was so obvious she just crept into everyone's heart, she says before singing a selection, Send Me An Angel.
1:31 p.m. EST Whitney if you could hear me now I'd say you weren't good enough. you were great, Costner says. People didn't just like you Whitney, they loved you. 180,091 viewers.
1:22 p.m. EST The New York Daily news reports that Bobby Brown leaves Houston's funeral service 20 minutes in.
1:16 p.m. EST Kevin Costner takes the lecturn and pulls a lot of laughs, reminiscing about growing up in the church and his commonalities with Houston.
1:10 p.m. EST Rev. Kim Burrell takes the lecturn and sings a personalized version of A Change Is Gonna Come by Sam Cooke. 172,742 viewers.
1:07 p.m. EST Questlove of The Roots tweets: i can't watch man. 173,165 viewers.
1 p.m. EST BeBe Winans sings Home, an original composition he wrote originally for his dead brother, through tears.
12:55 p.m. EST What I'm going to miss is crazy Whitney, brother BeBe says. She decided at the height of her career she was going to come sing backup with BeBe and Cici. 176,454 viewers.
12:53 p.m. EST Warwick calls Whitney by her nick name Nippy.
12:50 p.m. EST Before I could get the words of advice out to her, she would say: 'but the lord, Perry says. There was a grace that kept on caring. He cites Romans 38 with zeal: For I am convinced that neither death nor life, neither angels nor demons, neither the present nor the future, nor any powers, 39 neither height nor depth, nor anything else in all creation, will be able to separate us from the love of God that is in Christ Jesus our Lord.
12:48 p.m. EST Dionne Warick, Houston's cousin, introduces Tyler Perry at the lecturn. I know this grief. 177,041 viewers.
12:39 p.m. EST Reverend Donnie McClurkin leads a powerhouse selection of Stand. 174,082 viewers.
12:35 p.m.EST We celebrate the life of Whitney Houston today, the pastor says. Whitney, you are the only one who could bring all of us together. Today is your day Whitney. This is how we celebrate: we have church. He reads Pslam 23 and John 14: 1-6. 174,095 viewers.
12:32 p.m. EST Say amen for the choir, says the pastor. Lord we welcome you, have your way. The band and crowd and choir rev up again in a cloud of joy. The camera finally pulls back to reveal a compltely full house. 172,609 viewers.
12:25 p.m. EST A reprieve of speech is taken for a solo version of He Restoreth My Soul. 169,089 viewers.
12:22 p.m. EST Newsday reports, Oprah, Gayle and Mariah all arrive at the church. 167,661 viewers.
12:18 p.m. EST We're going to have church today, says New Hope Batpist Church pastor Rev. Joe Carter. He asks everyone to power down their cell phones, then presents the mayor of Newark, Cory Booker. We love you Whitney Houston, Booker says.
12:17 p.m. EST The band's piano player takes an extended solo until some wind chimes get jostled and a
12:15 p.m. EST Jessie Jackson arrives according to Reuters.
12:10 p.m. EST The band picks up on a burning Hallelujah. 157,740 viewers.
12:07 p.m. EST An abstract mass of voices, music, and drums roil from the coda of Grateful as the choir finally dips out and the crowd cheers. 152,838 viewers.
12:06 p.m. EST Noted cultural commentator Toure tweets: I love that the choir is wearing white at Whitney's Homegoing. It's a joyous celebration of her life.
12:02 p.m. EST The choir soars on the refrain of Grateful as mourners stream in. 131,278 viewers.
11:57 a.m. The choir kicks back into a down-tempo but big-beat tribute of gospel standard Grateful. 118,521 viewers.
11:55 a.m. CNN Reports Bobby Brown has arrived at the funeral. 112,111 viewers.
11:50 a.m. EST It appears hot inside New Hope Baptist Church church. The organ player warms up as the choir fans itself. 98,324 viewers.
11:47 a.m. EST The mood inside the church is more jubilant than morose. The choir dressed in all white ostinates over big trumpet stabs and splashy upbeat hihats. 95,435 viewers.
11:46 a.m. EST AP live stream already live.
11:44 a.m. EST The AP live stream won't begin until noon now; The New York Daily News has streaming live content already.
11:25 p.m. EST The Washington Post obtains video of Houston's casket arriving.
11:24 a.m. EST Reports come in the funeral will not begin until 11:30 p.m. EST.
11:17 a.m. EST CNN reports breaking news that Aretha Franklin is sick and will not be performing at Houston's funeral.
11:03 a.m. EST The AP live stream of the funeral hasn't started yet, though it was due to at 11 a.m. EST. Constantly refreshing.
© Copyright IBTimes 2023. All rights reserved.