Who Is Amancio Ortega? Meet The Super-Rich, Super-Private Spanish Billionaire
While he may not have the worldwide recognition of the likes of Facebook's Mark Zuckerberg or Google co-founder Larry Page, rags-to-riches businessman Amancio Ortega outranks both tech titans on Forbes' most recent list of the richest people in the world.
With a personal fortune in the neighborhood of $65 billion, Ortega is the wealthiest man in Spain and the fifth-richest man in the world. He also ranks as the second wealthiest European, just behind France's Bernard Arnault. At one point, Ortega was the second-richest man in the world.
Here's a look at where the fast fashion mogul came from and how he made his fortune.
Amancio Ortega Gaona, 83, was born the youngest of four children to Antonio Ortega Rodriguez and Josefa Gaona Hernandez. His father was employed as a railway worker, while his mother was a housemaid.
As a young man in northwestern Spain, Ortega had his first brush with the fashion industry working as a men's shirts delivery boy and tailor's assistant. In 1963, he and his then-wife, Rosalia Mera, started Confecciones Goa, a bathrobe business.
He would go on to found the first Zara fast fashion store in La Coruna, Spain, in 1975 and the business would eventually grow into a globally successful chain with 10,000 locations around the world.
The business model was simple: get clothes to stores as fast as possible and give customers what they want. The slick plan got attire from European designers and manufacturers to the stores within weeks, while established retailers struggled to keep up with Zara's "fast fashion" pace. Store managers were given the freedom to choose what goes on the shop floor and were trained to quickly understand customer needs and styles.
In 2018, the company posted annual revenue of $18.9 billion. In 1985, Ortega and Mera founded Madrid-based Inditex, a fashion retail group that would grow into the biggest in the world. Inditex is also comprised of businesses include Massimo Dutti, Bershka, Oysho, Stradivarius, and more. As of 2016, he owns 60% of Inditex.
Not all of Ortega's fortune comes from retail. According to Forbes, Ortega has invested in real estate in Madrid, Barcelona, London, Chicago, Miami and New York.
Throughout his time building a fashion empire, Ortega is said to have remained humble and low-profile. No photo of Ortega was released until 1999 and he has only granted interviews to three journalists.
Ortega is said to never wear ties and avoids wearing Zara products. On the day of Inditex's IPO in 2001, he reportedly worked a normal schedule and ate lunch at the company's cafeteria. He frequents the same coffee shop every day in La Coruna.
Ortega has three children and has been married to current wife Flora Perez Marcote since 2001.
"You must appear three times in the newspapers," Ortega said. "When you are born, when you get married and when you die."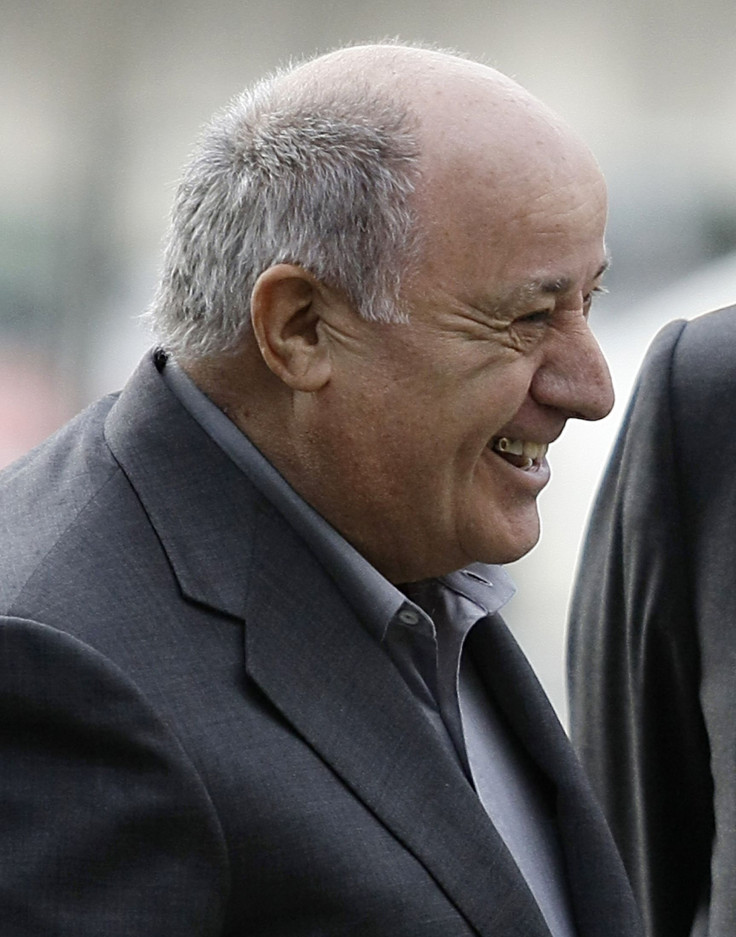 © Copyright IBTimes 2023. All rights reserved.
FOLLOW MORE IBT NEWS ON THE BELOW CHANNELS