Who Are Niloofar Hamedi And Elaheh Mohammadi? Iran Journalists Face Trials Over Amini Protests
KEY POINTS
Elaheh Mohammadi and Niloofar Hamedi's trials began this week
The trials began behind closed doors on charges linked to their coverage of Amini's funeral
The pair could face the death penalty if convicted under Iranian law
Two journalists, Elaheh Mohammadi and Niloofar Hamedi, who played a crucial role in uncovering the tragic killing of Mahsa Amini, a 22-year-old Kurdish woman in Iran, made appearances in court this week to stand trial. The proceedings, held in secrecy, revolve around charges related to their reporting on Amini's funeral. The death of this Kurdish-Iranian woman while in custody last year sparked widespread unrest, which persisted for several months.
Mohammadi and Hamedi have endured a long period of imprisonment, marked by limited access to legal representation and minimal contact with their families. Facing separate trials, both journalists potentially face the gravest punishment under Iranian law—the death penalty—if found guilty.
Mohammadi's trial commenced on Monday, while Hamedi's proceedings began on Tuesday.
Speaking to AFP on Monday, Mohammadi's lawyer, Shahab Mirlohi, described the session as "good and positive." He added that the confirmation of the next court date would be provided at a later time.
Both Mohammad and Hamedi have been accused of engaging in "collusion with hostile powers" due to their reporting on Amini's death.
Last October, Iran's intelligence ministry released a statement accusing Mohammadi and Hamedi of being CIA foreign agents.
Despite the appeals from rights groups, Iran disregarded the requests for a public trial for the two journalists.
Leading up to the trials, numerous journalists in Iran shared their experiences of encountering violence, beatings, threats, and imprisonment as a consequence of their coverage of protests within the country. These accounts shed light on the significant challenges and risks faced by media professionals in Iran, as they confront severe crackdowns and encounter substantial limitations on press freedom.
A female journalist, speaking anonymously to The Guardian, revealed that she has been repeatedly targeted by IRGC agents who have sent her death threats, reminiscent of the protesters who lost their lives during the demonstrations.
Another female journalist said: "Out of fear of international reaction, the Iranian government harasses well-known journalists less, but punishes anonymous citizen journalists... I know many of them [citizen journalists] who were beaten in custody, and their legs were broken. All the videos and pictures published during the protests were from these citizen journalists, not official media."
Who Are Niloofar Hamedi And Elaheh Mohammadi?
Niloofar Hamedi, who worked for the reformist newspaper Shargh, was arrested during the Mahsa Amini protests after reporting on the case and the treatment of Mahsa Amini by Iran's Morality Police.
On Sept. 16, 2022, Hamedi managed to enter Kasra Hospital in Tehran, where Mahsa Amini was receiving treatment after she was attacked for allegedly violating compulsory hijab rules. Hamedi captured a poignant moment when Amini's parents were hugging and crying. She shared the photo on her Twitter account.
Following her news coverage of Amini's death, which sparked nationwide protests, Hamedi was arrested by security forces on Sept. 21 as part of a broader crackdown on journalists and students. Her Twitter account, where the photo was originally posted, was suspended without explanation. Hamedi was charged with colluding with the intent of acting against national security and propaganda against the state.
Elaheh Mohammadi, a journalist who worked for the reformist publication Ham Miham, was detained on Sept. 29 after she traveled to Saqez, the hometown of Mahsa Amini in Kurdistan province, to cover her funeral ceremony. Mohammadi had reported about the police attack at the funeral.
In April, Niloofar Hamedi And Elaheh Mohammadi were named in Time Magazine's 100 Most Influential People of 2023.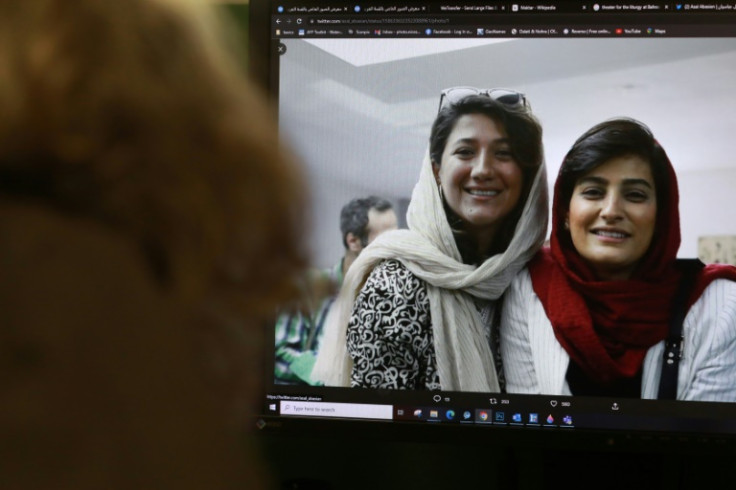 © Copyright IBTimes 2023. All rights reserved.