Who Is Dolphins1925? WWE Summerslam Spoilers Posted By Reddit User; Leaked Match Outcomes Spark Controversy
A Reddit user who gained a massive Internet following by leaking the results of several WWE pay-per-view events struck again Sunday night, correctly predicting the results of three SummerSlam matches and possibly drawing the attention of a WWE official in the process.
The Reddit user, who posts under the alias "Dolphins1925," had correctly predicted the results of 38 consecutive pay-per-view matches before Sunday night's WWE SummerSlam event. At about 8 p.m., Dolphins1925 returned to Reddit to announce that he or she would once again be posting spoilers.
The attention received by the Reddit user's predictions have resulted in several hoax accounts, including the similarly named "Dolphins1924." Dolphins1925 opened a new Reddit thread with a message aimed at dispelling rumors that Sunday's SummerSlam results had already been posted under a different account name.
"First and foremost, I want to make it clear that this has been my only account, and my only user name that I have ever posted on," Dolphins1925 wrote in the Reddit thread. "I am not on any social media. I don't post on any other forums, and I have never revealed myself to anyone. The rumors claiming that I have been caught by WWE are totally false. I have not contacted the WWE in any way and my identity is well protected."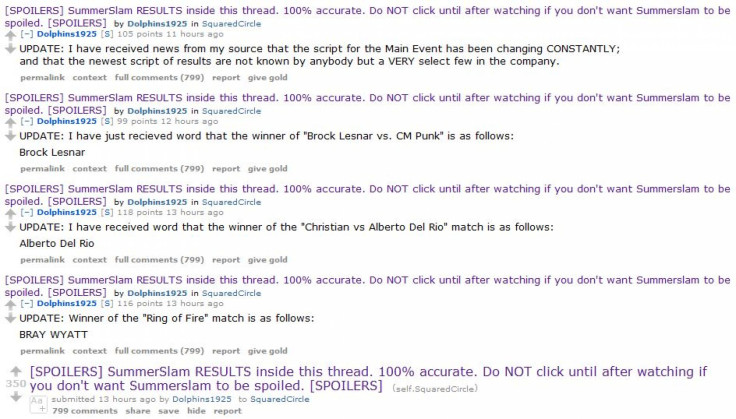 Next, Dolphins1925 claimed that WWE officials would "do anything to ensure I do not go undefeated [in match predictions] again. It is my understanding that some of the matches on tonight's card have multiple scripts, including the MAIN EVENT, which to my knowledge, [WWE Chairman Vince McMahon] changed on a whim TODAY."
The Reddit legend also started a Twitter account, using the handle "@dolphinsreddit." The account was quickly suspended.
During SummerSlam, Dolphins1925 posted match results for three of the pay-per-view's clashes. The Reddit user predicted that Bray Wyatt would defeat Kane, Alberto Del Rio would defeat Christian, and that Brock Lesnar would defeat CM Punk. All three match predictions came true.
Later, Dolphins1925 claimed that WWE officials were changing SummerSlam's scheduled main event results to counteract the predictions on Reddit.
"I have received news from my source that the script for the Main Event has been changing CONSTANTLY; and that the newest script of results are not known by anybody but a VERY select few in the company."
Ultimately, Dolphins1925 decided not to post a prediction for the night's main event.
Dolphins1925 has been leaking WWE outcomes since February, when the Reddit user posted the results to the WWE's "Elimination Chamber" pay-per-view. Since then, the Reddit user has predicted 41 straight match outcomes, including three of last night's SummerSlam matches.
While Dolphins1925's source remains anonymous, the Reddit user claims that a "very credible" WWE employee has been leaking the match outcomes.
"I am just a WWE fan like everyone else, and I am getting my information from a source who has VERY credible inside information regarding the outcomes (wins/losses) of the matches themselves," Dolphins1925 wrote in a Reddit thread. "Given that this information is out there, we both feel that I should continue to share this information until it garners the attention of WWE."
WWE officials in July acknowledged Dolphins1925's perfect prediction record in an official statement. "We may have a modern day Nostradamus on our hands. We might have to monitor these posts in advance of our next pay-per-view to see how good he or she really is."
The organization, however, hasn't confirmed or denied the existence of a possible "rogue employee" leaking match outcomes.
WWE's vice president of digital content Joey Styles tweeted a cryptic message on Sunday that seemed to contain an implicit reference to Dolphins1925: "What a @WWE #Summerslam! [WWE Daniel Bryan] was caught in a web of deception like a dolphin caught in a fishing net."
Style's tweet was accompanied by a picture of a dolphin literally caught in a fishing net, which may imply that the WWE has been tracking Dolphins1925's posts.
FOR FREE to continue reading
✔️ Unlock the full content of International Business Times UK for free
offer available for a limited time only
✔️ Easily manage your Newsletters subscriptions and save your favourite articles
✔️ No payment method required
Already have an account? Log in
© Copyright IBTimes 2023. All rights reserved.