Who Is Fighting ISIS? Map Of US-Led Coalition Campaign After Paris Attacks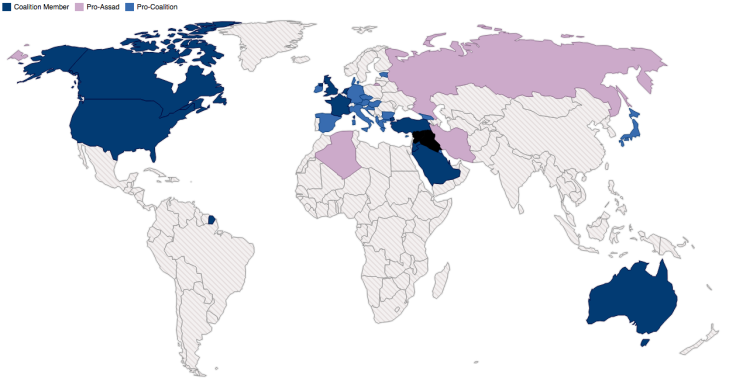 After the Islamic State terror group took responsibility for a spate of attacks Friday night across Paris that claimed at least 129 lives, France announced it would intensify its airstrikes in Syria in cooperation with the United States. France has been a visible and active ally in the U.S.-led coalition against the terror group based in Syria and Iraq, among several other international powers.
ISIS, which began as the al Qaeda branch in Iraq during the U.S. occupation there, expanded into Syria after the uprising against dictator Bashar Assad in 2011 became an all-out civil war. Anti- and pro-government forces splintered, taking on an increasingly sectarian character. ISIS wants to topple the Assad regime and institute a caliphate, a theocratic Islamic state, over vast swathes of Syria and Iraq.
U.S. airstrikes have attacked more than 2,600 ISIS targets since the Americans joined the fight in 2014, the New York Times reported. Other powers, including Australia, Bahrain, Canada, France, Jordan, Saudi Arabia, Turkey and United Arab Emirates, have served as allies, particularly in conducting airstrikes.
Russia began conducting its own airstrikes in late September. The Russians claim to be targeting ISIS as well, but the U.S. and other sources on the ground say the attacks are mainly targeting anti-Assad rebels. Russian President Vladimir Putin is a supporter of Assad's regime. Relations between the U.S. and Russia have grown increasingly icy over Russia's involvement in Syria, among other conflicts, but the two unlikely allies have been in diplomatic talks to coordinate their efforts.
The U.S. has been reluctant to send in troops on the ground in Syria and dispatched the first few dozen special forces soldiers to the region in October. Kurdish irregular forces, protecting the large ethnic minority group native to Syria, Turkey, Iraq and Iran, have been the main force fighting ISIS on the ground. With support from the U.S., Kurdish fighters retook the city of Sinjar, Iraq, from ISIS Friday.
This map gives detailed information on which countries are fighting ISIS, as the threat of terrorism moves beyond the Middle East.
© Copyright IBTimes 2022. All rights reserved.
FOLLOW MORE IBT NEWS ON THE BELOW CHANNELS