Who Is Jovenel Moïse? Meet Haiti's New President After 2016 Election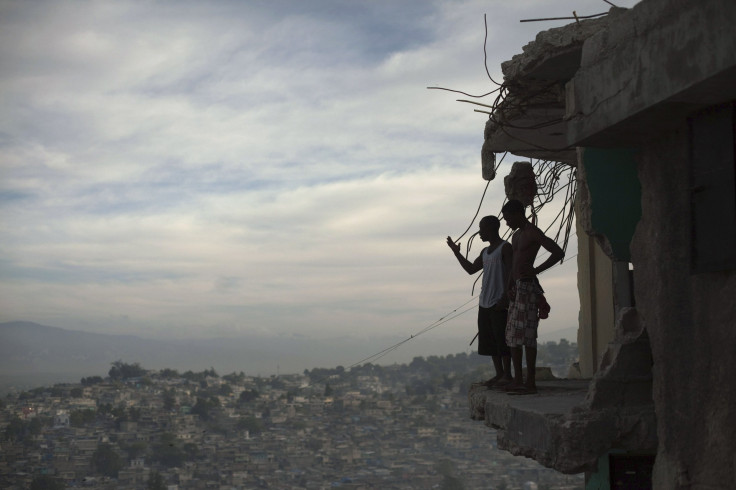 Businessman Jovenel Moïse was sworn in Tuesday as Haiti's 58th president.
"This is the day the Lord has made let us rejoice in it and be glad," the successful banana exporter wrote on his Twitter page.
Moïse 48, who has never held political office, took the oath at a ceremony at the National Assembly. He was declared the winner with 55 percent of the votes cast in the Nov. 20 election. His competitor, Jude Célestin, the former head of the state construction agency, was close behind with just over 19.57 percent.
The ceremony can be seen here:
In 2015, former President Michel Martelly hand-picked Moïse for the presidency of the political party he founded, the Haitian Party, Tet Kale Party (PHTK). Moïse, also known as, "The Banana Man" has a banana plantation in North Haiti and also founded the public-private project Agritrans in 2012, which helped in exporting the fruit to Europe.
The wealthy businessman once served as secretary-general of the chamber of commerce in northern Haiti and according to his campaign, started a project that would bring solar and wind power to 10 communities. His campaign promises include creating more jobs for the people in Haiti and improving the country's education. He also proposed agriculture as a starting point for Haiti's economic recovery.
Moïse was born to a middle-class family in Trou-du-Nord, in Haiti's Nord-Est Department. He is the son of Etienne Moïse, a mechanic and farmer, and Lucia Bruno, a seamstress. He said despite his parents' limited education, they were still able to "transmit strict principles and rigorous discipline."
In July 1974, his family moved to Port-au-Prince, where he attended the Don Durélin National School, the Lycée Toussaint Louverture, and the Cultural Center of the Collège Canado-Haïtien. He studied political science at Université Quisqueya and married Martine Marie Etienne Joseph, a classmate, in 1996. That year, he left the capital and moved to Port-de-Paix with the intentions to someday develop rural areas.
Haiti, one of the poorest countries in the Americas, economically depends on agriculture. The island, which has a population of about 10 million, was seriously affected by a series of devastating natural disasters. In 2010, the island suffered a devastating earthquake killing more than 100,000 people. To this day, Haiti is still recovering from it.
When Hurricane Matthew hit the island last October, it killed up to 1,000 people and left 1.4 million in need of humanitarian aid. The UN has estimated that around 80 percent of crops have been lost in some areas.
On Moïse's Facebook page last month, he promised that his five-year presidency would be marked by "active will and vigilant pragmatism."
The newly elected president first won October's 2015 presidential election, but the results were quickly overturned due to allegations of fraud.
© Copyright IBTimes 2022. All rights reserved.
FOLLOW MORE IBT NEWS ON THE BELOW CHANNELS