Who Is Kim Ki-Jong? US Ambassador Attacker In South Korea Has History Of Violent Activism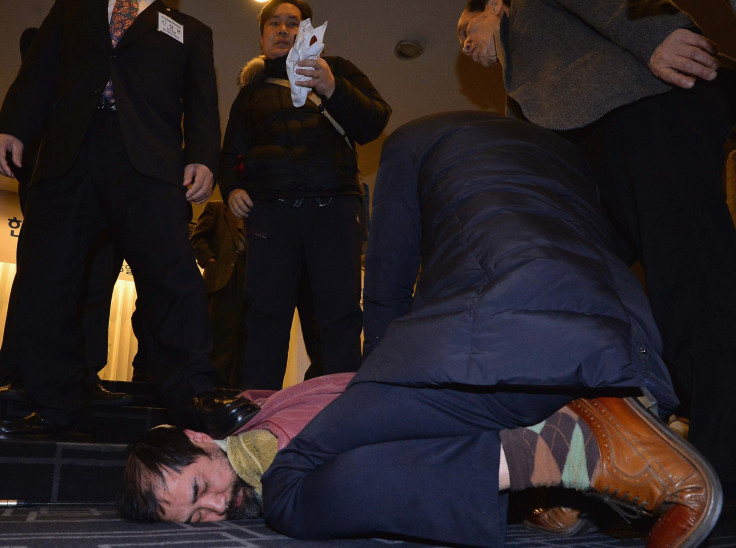 Kim Ki-jong, the man who attacked U.S. Ambassador to South Korea Mark Lippert with a razor blade in downtown Seoul, previously attacked other government officials and has a record of violent activism. Thursday morning, local time, the 55-year-old South Korean managed to slash Lippert's left wrist and face during a meeting at the Sejong Center for the Performing Arts. He was arrested a few minutes later.
Kim, who suffered a broken ankle during the attack, is the head of Urimadang Dokdo Keepers, a left-wing organization that protests Japan's territorial claims over the disputed islands known as Dokdo in South Korea and Takeshima in Japan. In July 2010, Kim received a suspended two-year prison term for throwing two pieces of concrete at former Japanese ambassador to South Korea, Toshinori Shigei, according to Korean news agency Yonhap. Kim wanted to hold a rally protesting Japan's claim to the disputed islands at a forum that Shigei was at, but was denied permission according to the law. After his sentence, Kim asked for a review of the law banning rallies within 100 meters (109 yards) of embassies and consulates but was rejected by the courts.
Kim also tried to set himself on fire with gasoline in 2007 in front of the presidential Blue House, South Korea's equivalent of the United States' White House. He was demanding the truth about a 1998 rape of a woman in which four unidentified assailants fled the scene and no arrests were made, according to the Korea Times. The woman belonged to his civic group and was attacked at their office in Seoul, according to the Korea Herald.
In 2006, Kim and fellow activists changed their home address to "Dokdo" in protest after Japan's Shimane Prefecture designated its Takeshima Day.
In Kim's recent blog posts, his focus has shifted from the Dokdo/Takeshima dispute to the U.S.-South Korea joint military exercises Foal Eagle and Key Resolve. Kim wrote a post Tuesday that said the military operations were "the reason why the union between family members (separated by the Korean War) couldn't take place," according to Yonhap.
© Copyright IBTimes 2023. All rights reserved.