Who Is Mmusi Maimane? Meet The First Black Leader Of South Africa's Democratic Alliance Opposition Party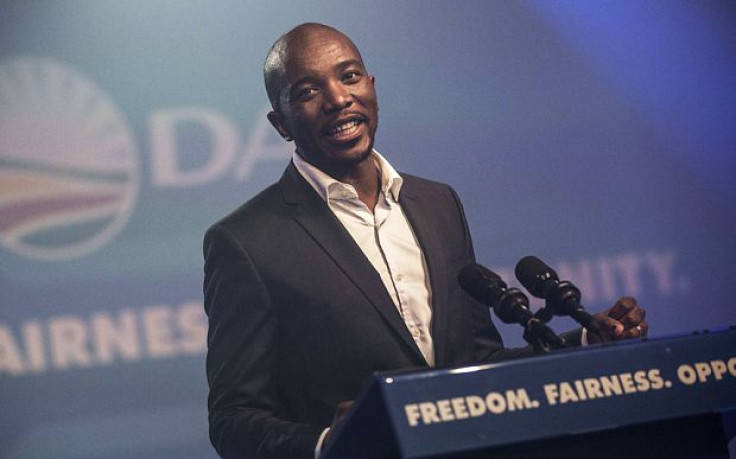 Mmusi Maimane was chosen to lead South Africa's main opposition party, the Democratic Alliance, at its conference in Port Elizabeth on Sunday, media reports said. Maimane, 34, is the first black leader of the DA, which won its highest votes ever in last year's national election.
In his first term as party leader, Maimane will be charged with widening the appeal of the DA to take supporters from the ruling African National Congress. Maimane's election is intended to attract black votes to the party, which has the support of many whites. The DA won 22 percent of the vote in the 2014 election, South Africa's News24 said.
The ANC has won more than 60 percent of the vote in every election since it took power under Nelson Mandela in 1994. Now Maimane is pledging to pursue a lawsuit against President Jacob Zuma, who is accused of taking bribes from arms dealers. The president has denied the allegations and the charges were dropped weeks before he took office in 2009, Bloomberg said.
"President Zuma, if you are watching, please note we are still coming for you," Maimane said in his acceptance speech Sunday. "Nobody is above the law. And equally so, no political party has the divine right to rule this country."
Despite the fall of apartheid more than two decades ago, South Africa remains a deeply divided nation along racial lines. The black majority continues to live in poverty. About one in four people living in South Africa are unemployed and the worst affected are young black people, PBS reported. The nation's unemployment and poverty sparked deadly xenophobic violence against African immigrants in the cities of Durban and Johannesburg this year.
Maimane, the son of a cashier, discussed the struggle of young black South Africans during his acceptance speech Sunday. "Not everybody I grew up with has had the same opportunities as me," he said. "These experiences shaped me, just like they shaped so many young black people of my generation. And that is why I simply don't agree with those who say they don't see color. Because, if you don't see that I'm black, then you don't see me."
The Soweto native said South Africa must first recognize the economic inequalities across racial lines in order to rise above them. "This doesn't mean our skin color must define us forever," he said. "We can transcend race. But this can only happen if every South African acknowledges the injustices of apartheid; and it can only happen if we all recognize that the racial inequality of the past remains with us today."
Maimane, a preacher at Discovery Church in Randburg, said that above all the DA will push for measures to create jobs and equal opportunities as well as strengthen the economy. Maimane, who took 88.9 percent of the DA delegates' votes, received a standing ovation from the crowd at the end of his victory speech. South African press has dubbed Maimane as the "Obama of Soweto," a comparison which he has rebuffed.
© Copyright IBTimes 2023. All rights reserved.