Who Is Nadir Soofi? New Garland Shooting Suspect Identified As Elton Simpson's Roommate, Report Says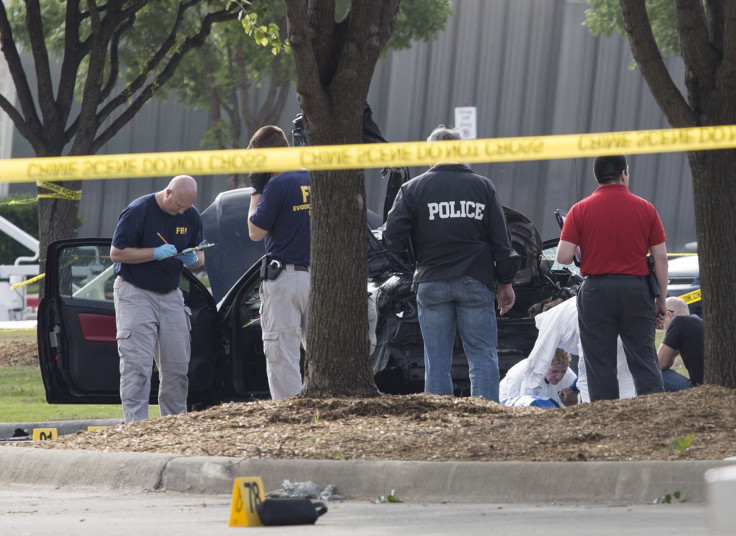 Federal authorities have identified Nadir Soofi, a 34-year-old Phoenix native, as one of two men who opened fire Sunday at a Prophet Muhammad cartoon drawing contest in Garland, Texas, officials said. Soofi and his roommate, Elton Simpson, attacked Garland's Curtis Culwell Center with assault rifles before they were shot and killed by a traffic officer.
The Federal Bureau of investigation does not suspect the two men acted at the behest of international terrorist groups but has yet to conclude its investigation, the Washington Post reports. The agency raided Soofi and Simpson's Phoenix apartment Monday. It's unclear who masterminded the attack.
Federal officials have tracked Simpson on and off since 2006 and had recently resumed surveillance. He was arrested by FBI agents in 2010 under suspicions he lied to authorities regarding a planned trip to Africa. Simpson told agents he planned to attend school in South Africa, but officials alleged he sought to travel to Somalia to pursue terrorism. Simpson later received three years of probation in connection to the incident.
The American Freedom Defense Initiative hosted the event, dubbed the "Muhammad Art Exhibit and Contest" and offered a $10,000 prize to the winner of its Muhammad cartoon contest. Geert Wilders, a prominent right-ring Dutch politician who has received death threats from Al Qaeda, delivered a keynote speech, USA Today reports.
Soofi and Simpson purportedly tweeted a message of loyalty to a prominent ISIS fighter before the attack, CNN reports. The two men wore body army and used assault rifles in the attack, but none of the event's attendees were injured. One security guard suffered a gunshot wound to the leg, but was treated and released from a local hospital. Garland Police spokesman Joe Harn praised the unnamed traffic officer who killed Soofi and Simpson with a sidearm.
"He did what he was trained to do, and under the fire that he was put under, he did a very good job. And probably saved lives," Harn said, according to CNN. "We think their strategy was to get into the event center, and they were not able to get past our perimeter that we had set up."
Texas Gov. Greg Abbott addressed the Garland shooting in a statement Monday, vowing authorities would continue to investigate possible ties between the shooters and terrorist organizations. "This morning I called [Garland Mayor Douglas Athas] to offer any state resources and assistance that would aid his city following this heinous attack, and praised the City of Garland's swift and effective action to stop these gunmen and protect innocent lives," Abbott said.
He added, "I also received a briefing from the Department of Public Safety on the latest developments regarding the actions and motivations of the shooters. I instructed Director McGraw to work with federal authorities to fully investigate the assailants' ties to organized terrorist activity, and received assurances the DPS will continue to communicate with my office and the public as additional information can be released."
© Copyright IBTimes 2023. All rights reserved.
FOLLOW MORE IBT NEWS ON THE BELOW CHANNELS