Who Is Tom Brady's Replacement In New England? Breaking Down The Patriots' Starting Quarterback In 2020
Jarrett Stidham arguably has the most difficult job of any player in the 2020 NFL season. He'll be tasked with replacing Tom Brady, who led the New England Patriots to nine Super Bowl appearances and six championships over the last two decades.
Brady left for the Tampa Bay Buccaneers in free agency, leaving a gaping hole in New England at the sport's most important position. Instead of signing a veteran starter or selecting a quarterback in April's Draft, the Patriots appear content with handing the reins to the unproven second-year signal caller.
Stidham, 23, was a fourth-round pick of the Patriots in the 2019 NFL Draft. He had a less than remarkable college football career, transferring from Baylor to Auburn, where he started in 2017 and 2018.
As a redshirt sophomore, Stidham threw for 3,158 yards, 18 touchdowns and six interceptions. He didn't improve in his final season with the Tigers, posting 2,794 passing yards, 18 passing touchdowns and five interceptions.
Patriots head coach Bill Belichick and offensive coordinator Josh McDaniels must see something in Stidham, considering the team has passed up the chance to acquire free-agents like Cam Newton, Andy Dalton and Jameis Winston. New England brought in career-backup Brian Hoyer to likely be the No.2 quarterback.
Arizona Cardinals head coach Kliff Kingsbury knows Stidham well from his days as Texas Tech's head coach. Kingsbury recruited Stidham and even secured a commitment from the quarterback before he changed his mind and chose Baylor.
"Tremendous thrower of the football," Kingsbury said of Stidham in an interview with WEEI's Ordway, Merloni & Fauria. "Really comes out clean. I remember watching him when he was 16 years old and the ball jumped out of his hand at that age. Very accurate.
"He has a cool, calm confidence about himself. Doesn't try too hard around the guys. They like that, they like being around him, they gravitate towards him. And that always struck me, just kind of how he carries himself."
A pre-draft scouting report at NFL.com notes that Stidham is "intelligent with ability to decipher defenses" and has "adequate size and arm strength." Stidham's mechanics were another one of his strengths coming out of college.
Stidham wasn't given much of an opportunity to show what he could do as a rookie. With Brady starting all 16 games and taking nearly every snap, Stidham only attempted four passes. He completed two passes for 14 yards, but his most notable throw was an interception that New York Jets safety Jamal Adams returned 61 yards for a touchdown.
Stidham was sent back to the bench after that pick, despite New England owning a 16-point lead over New York late in the fourth quarter. You can bet Stidham will be given a much longer leash in 2020.
"It is going to be hard to replace the greatest of all-time, but Josh (McDaniels) and those guys up there do a phenomenal job of developing QBs and if they feel confident in him, I feel confident in what they have going on. I am excited to watch him play," Kingsbury said.
Three quarterbacks have started for the Patriots since Brady replaced Drew Bledsoe during the 2001 season. They've had varying levels of success.
Matt Cassel became New England's starter when Brady suffered a season-ending injury in 2008 in Week 1. Cassel went 10-5, falling just short of leading the Patriots to the playoffs. He threw for 3,693 yards, 21 touchdowns and 11 interceptions with an 89.4 passer rating.
Jimmy Garoppolo and Jacoby Brissett each made two starts in 2016 when Brady served a four-game suspension for Deflategate. Garoppolo won both of his starts, throwing for 496 yards, four touchdowns and no interceptions. Brissett went 1-1 with 308 passing yards and a rushing touchdown.
Both quarterbacks were starters last season.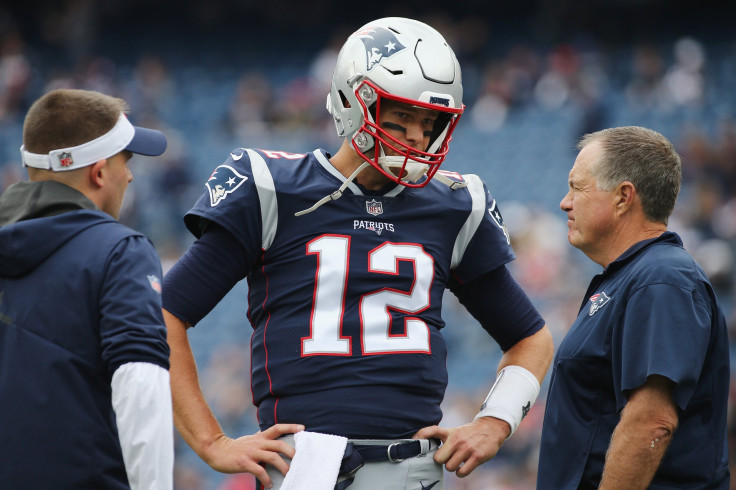 © Copyright IBTimes 2023. All rights reserved.