Who Is Volodymyr Zelensky? Meet The Ukrainian President At The Heart Of Trump's Impeachment Scandal
While President Donald Trump awaits a possible vote on articles of impeachment, there is obviously another head of state at the center of the Ukraine Scandal. Like Trump, the president of Ukraine is a political novice who gained much prominence in his country as a reality television star.
Ukraine President Volodymyr Zelensky, 41, is the country's sixth president. He was elected in April by defeating incumbent Petro Poroshenko with 73% of the vote.
Amid the developing White House scandal, Ukrainians have referred to him as "Monica Zelensky," a reference to former White House intern Monica Lewinsky, who was a central figure in Bill Clinton's impeachment.
Zelensky is an independent politician, who has supported the legalization of cannabis, abortion, prostitution, and gambling in his country while opposing the legalization of firearms. Prior to his political career, Zelensky was a comedian and actor, appearing in seven films over the past decade and one television show, as well as competing on Ukraine's "Dancing with the Stars" in 2006.
Ironically, in the one television show, "Servant of the People," Zelensky was cast as a teacher-turned-president. In the sitcom, he fights corruption in Ukraine — a key issue that helped propel Zelensky to win the 2019 presidential election. Zelensky also created and produced the series, which aired from 2015 to 2019.
Despite being pressured by Trump in a July phone conversation, Zelensky has refrained from any new investigations into Democratic presidential candidate Joe Biden or his son, Hunter Biden.
Zelensky has received mostly positive press before the recent scandal with Trump. When 35 Ukrainians were freed in a prisoner exchange with Russia, Zelensky greeted them on the tarmac at the Kiev airport.
But there have been concerns surrounding Zelensky due to his ties to billionaire Ukrainian oligarch Ihor Kolomoisky, who is considered a rival of Poroshenko. Zelensky's sitcom appeared on Kolomoisky's television network.
Born to Jewish parents, Zelensky grew up in Ukraine's eighth-most populated city. His father is a college professor, while his mother previously worked as an engineer.
While he earned a law degree, Zelensky has never practiced law. He is fluent in Ukrainian, Russian and English.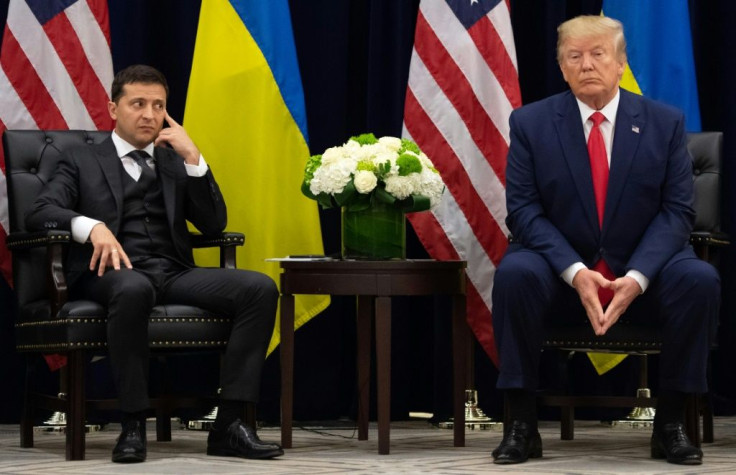 © Copyright IBTimes 2023. All rights reserved.