Who Was Oleksandr Muzychko? Ukrainian Police Kill Far-Right Leader Wanted By Russians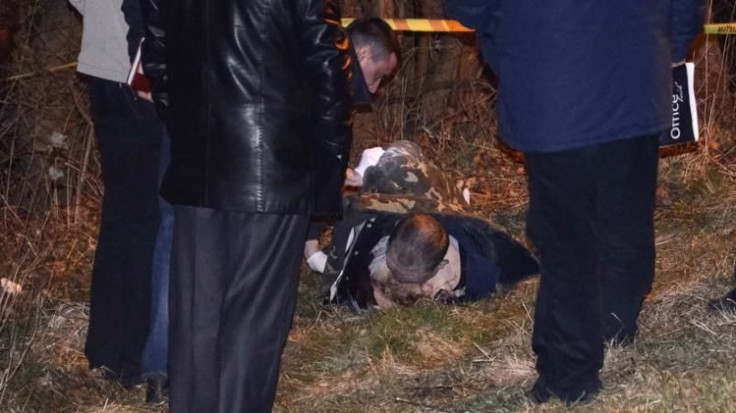 As the world fixates on the extraordinary developments in Crimea, the Black Sea peninsula that the Russian military has forcibly annexed, a bizarre incident in mainland Ukraine led to the death of the one of the country's most notorious far-right leaders. Oleksandr Muzychko, also known by the alias "Sashko Bily," was shot to death late Monday night or early Tuesday morning by Ukrainian "special forces" during a raid on a café in the western city of Rivne, according to the Interior Ministry.
Vladimir Yevdokimov, Ukraine's deputy interior minister, told a news conference in Kiev that the "Sokol" special forces came to arrest Muzychko, but shot and killed him after he opened fire on them first as he tried to escape. Authorities also described Muzychko as a "criminal gang-leader." "He was still alive as they were arresting him -- but then the paramedics, called to the scene, found that he had died," Yevdokimov said.
Muzychko, an ultranationalist, was a coordinator of the Right Sector group, which participated in recent protests in Kiev that ultimately toppled President Viktor Yanukovych. During those protests Right Sector attacked police vehicles and engaged in repeated violent clashes with authorities.
Muzychko was wanted by authorities in both Ukraine and Russia, the BBC reported. Specifically, Russian officials had issued an arrest warrant for Muzychko for alleged atrocities, including torture, against Russian troops in Chechnya during the 1990s when Moscow was engaged in a war against Chechen separatists. Muzychko had denied the accusations. Interfax, the Russian news agency, reported that Muzychko was a member of an organization called the Ukrainian National Assembly-Ukrainian National Self-Defense (UNA-UNSO), which fought on the side of Chechen rebels from 1994 to 2000. Ukrainian police wanted to arrest him for harassing a prosecutor and for general "hooliganism," Reuters reported.
But there are conflicting accounts of how Muzychko met his end. Before Yevdokimov delivered his version of events, an independent Ukrainian MP named Oles Doniy wrote on his Facebook page that Muzychko was driving in his automobile when two other cars forced him off the road and men abducted him, shot him to death and dumped his body. In essence, Doniy charged police with executing Muzychko.
"Two cars clipped his car and pulled him out the car and reseated him in their car. Then his hands were handcuffed, he was thrown on the ground and was shot twice in the heart," Doniy wrote. The Azerbaijan Press Agency reported that another Right Sector member, Jaroslav Granite, confirmed Doniy's account. "The murderers [Ukrainian police] shot him in his heart after they were sure that he doesn't have the [bullet-proof] vest," he said.
Regardless of the circumstances surrounding his death, Muzychko was a notorious figure. The BBC noted that he gained infamy by holding an AK-47 assault rifle during a town hall session in western Ukraine, prompting threats by the interior minister to investigate his aggressive behavior.
Perhaps coincidentally, Muzychko was killed only hours after a critical meeting between Russian Foreign Minister Sergei Lavrov and his Ukrainian counterpart Andriy Deshchytsia, their first such parley since the Crimea crisis erupted. Indeed, Russian officials have also claimed that the anti-government protests that engulfed Ukraine were partially directed by far-right groups, including Right Sector and Svoboda (Freedom). President Vladimir Putin declared that Ukrainian nationalist groups and "fascists" like Right Sector posed a danger to Russian-speaking peoples in Ukraine, using this issue as a partial justification for the invasion and subsequent annexation of Crimea. APA noted that there were calls in Russia for Muzychko's death.
Incidentally, the leader of Right Sector, Dmytro Yarosh, plans to run for Ukrainian president in elections scheduled for May 25.
© Copyright IBTimes 2023. All rights reserved.