Who Will Be Hillary Clinton's Running Mate? 10 Possible Vice Presidential Nominees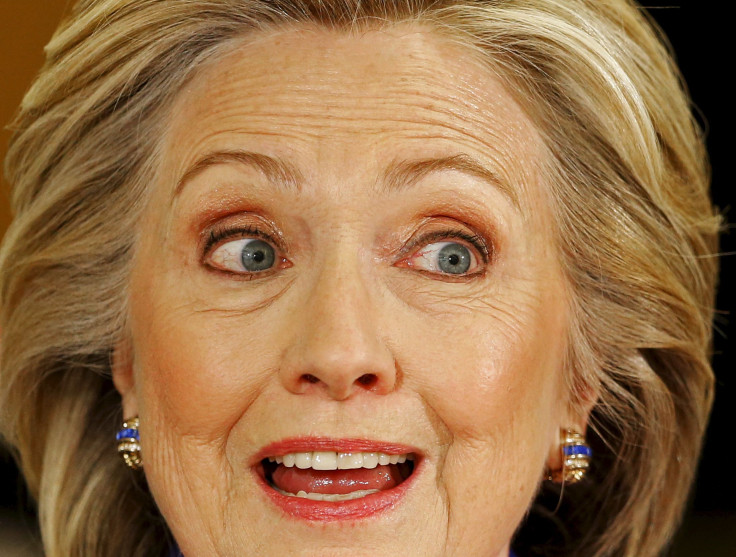 Hillary Clinton's campaign may want to keep the "inevitability" chatter to a minimum, but that hasn't stopped the extremely early, if not premature, speculation about her running mate -- this, eight months before the first caucus in Iowa. But since Clinton is dominating the polls over all other potential Democratic candidates, here are 10 names being bandied about as her vice presidential choice.
Julian Castro: Castro is the U.S. housing and urban development secretary and former mayor of San Antonio. At 40 years old (Clinton will be 68 in 2016), Castro is relatively young, and he's also Hispanic, which would diversify the ticket and blunt attacks about the Clinton name evoking the past, not the future. He was also the keynote speaker at the 2012 Democratic National Convention in Charlotte, North Carolina, a plum spot usually given to a rising star in the party. At the 2004 convention, a then-unknown Illinois state senator named Barack Obama used the speech to raise his national profile.
Henry Cisneros, also a former San Antonio mayor, and HUD secretary under President Bill Clinton, met with Hillary Clinton in 2014 about Castro's political future, and said his successor should be considered for vice president.
"If Hillary Clinton is the nominee, there will be many considerations, but certainly one of them will be the next generation and another one will be the significance of the Latino community," he told the Washington Post. "Clearly, if you were putting together a list of five people in the country who could potentially be a contributing running mate, you would have to put Julian Castro on that list."
Martin O'Malley: The former Baltimore mayor and Maryland governor is testing the waters for a presidential campaign, and his reluctance to hit Clinton hard so far might signal that he's eyeing the VP slot. O'Malley is a progressive who would be to the left of Clinton on most policy positions, which could satisfy the wing of the party she would have to work the hardest to rally.
O'Malley would also balance the ticket on gender and age, as he's in his 50s. "Clinton would be the first female nominee for a major party, so putting a fresh-faced white male governor on the ticket makes sense," wrote Linda Feldmann of the Christian Science Monitor. "Clinton would be on the older end as a nominee, so going for a youngish running mate also makes sense. It introduces a new generation of Democratic leadership to the country."
Deval Patrick: The ex-Massachusetts governor would add racial diversity to the ticket. Patrick, 58, was one of President Barack Obama's biggest surrogates in the black community, and Clinton may pick him to strengthen her share of the black vote. But the knock on Patrick is that he hasn't seemed eager to put all his energy toward Clinton's 2016 bid and has pointed out the weaknesses of her campaign.
"Secretary Clinton has been an extraordinary public servant and would be a terrific candidate for president. But I think the narrative that it's inevitable is off-putting to regular voters," he said in November, according to BuzzFeed. Patrick also said he would campaign for Clinton "within bounds" but he is "going to be listening to all the candidates."
Cory Booker: The New Jersey senator, elected only in 2013, would give the Clinton ticket both a racial and generational balance. The 46-year-old Booker might boost Clinton with the youth vote and his reputation for bipartisanship may lure independent voters. But there are downsides to Clinton picking him as her running mate, Matthew Hale, a political science professor at Seton Hall University in New Jersey, told Politicker NJ.
"I'm not exactly sure what Cory Booker brings to the picture," he said. "One of the things people look for in a vice president is are they qualified to be president. Cory Booker is young, inexperienced, doesn't have a lot of foreign policy experience. I'm not sure that he brings that sense of gravitas into potentially the top seat. Any senator's name is on the table right now, because they all think that they can be president."
Elizabeth Warren: The Massachusetts senator has repeatedly said she isn't running for president, but having her on the ticket with Clinton would be Hillary's best way to shore up support among progressive Democrats. Clinton has been criticized by that wing of the party for not being outspoken enough on reining in Wall Street, among other issues.
Clinton has also had high praise for Warren, writing her blurb in Time magazine's 100 Most Influential People for 2015. "Elizabeth Warren never lets us forget that the work of taming Wall Street's irresponsible risk-taking and reforming our financial system is far from finished," she wrote. "And she never hesitates to hold powerful people's feet to the fire: bankers, lobbyists, senior government officials and, yes, even presidential aspirants."
Tim Kaine: The U.S. senator from Virginia would help a Clinton ticket with independent voters. Although a Democrat, Kaine teamed up with Sen. John McCain, R-Ariz., to criticize Obama's Middle East policy and argued that Obama didn't have the authority to launch airstrikes against ISIS without Congress' approval. But Kaine is also not as hawkish as Clinton seems to be positioning herself in 2016, so Kaine could cover Clinton's weaknesses with dovish Democrats.
Kaine is also an early endorser of Clinton's candidacy, having backed her in May 2014. "Secretary Hillary Clinton is the best person to be our 45th president for many reasons," Kaine said, according to Politico. "She is a classic American optimist with the background and experiences necessary to lead this country in a very complicated world."
Brian Schweitzer: The former Montana governor has been talked about as a vice presidential nominee as early as 2008. Schweitzer is a rare Democrat who has been able to win in the interior West and could improve Hillary's standing among working-class white voters. But he's also been highly critical of Clinton, which diminishes his chances of being her vice presidential nominee.
"You can't be the candidate that shakes down more money on Wall Street than anybody since, I don't know, Woodrow Wilson, and be the populist," he said of Clinton in 2014, according to the Washington Post. "You can't be the one to say we're going to focus on rebuilding America if you voted to go to the Iraq war."
Evan Bayh: Bayh, a former U.S. senator and governor from Indiana, lost out on Obama's veepstakes in 2008 to Joe Biden, according to USA Today. As a moderate Democrat, he could help Clinton with independent voters. He has also promised to help out with Clinton's campaign. "We think the world of both of them, are friends of both of them, help them and who knows where that might lead," he said of his and his wife's views of the Clintons.
Tom Vilsack: This longtime Clinton ally is secretary of agriculture and a former Iowa governor. Vilsack could help Clinton in the Midwest. Vilsack's chances of being the running mate were touted by retired Iowa Sen. Tom Harkin, who is also close to the Clintons. "I would say this: Among those who are seriously considering being the Democratic nominee for president, among those who are ... thinking about who would make a good running mate, Vilsack is right there," he told the Des Moines Register.
Joaquín Castro: Julian Castro's twin brother is a congressman representing the San Antonio area. Before that, he served in the Texas House. Castro is considered a rising star in the party like his brother and would balance the ticket for Clinton in the same way as his twin. One thing going for Castro is that he was an early endorser of Clinton's campaign, although the more likely scenario is that he'll run for statewide office in Texas instead of vice president.
"There's no doubt about it: Hillary is the best person to be our 45th president," he wrote in a September 2013 email. "Hillary has always been a tireless advocate for working families -- she's never ceased to make sure everybody has a fair shot at achieving the American Dream."
FOR FREE to continue reading
✔️ Unlock the full content of International Business Times UK for free
offer available for a limited time only
✔️ Easily manage your Newsletters subscriptions and save your favourite articles
✔️ No payment method required
Already have an account?
Log in
© Copyright IBTimes 2023. All rights reserved.