Whole Foods' Disappointing Q2 Performance Reflects Shifting Grocery Industry Landscape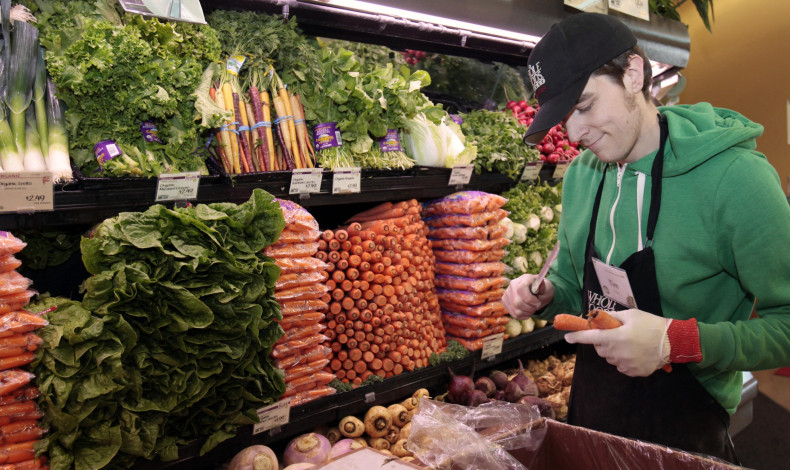 As Whole Foods reels from a disappointing second-quarter earnings report and a precipitous drop in its stock price, industry analysts and experts blame the company's recent slide on rising competition, a stagnant business model and shifting consumer preferences and proclivities.
Whole Foods Market, Inc. (NASDAQ:WFM) has been one of the brightest spots in the grocery sector for years, but its stock fell about 19 percent overnight this week after it reported lackluster Q2 earnings that undercut investor confidence and raised questions about the brand's direction.
The stock sell-off reduced the high-end retailer's market value by more than $3 billion, which doesn't bode well for the chain as it's struggled in recent years to keep pace with changes in the once-niche organic and health food markets as it entered the mainstream.
The earnings were so disappointing, the company took the uncommon step of admitting that it needs to offer better prices to consumers.
"We were overly optimistic in our ability to compare against the record-breaking results we have produced for the last few years," co-chief executive John Mackey said, according to the U.K.'s Independent newspaper. "So we're going to be investing more aggressively in price going forward, while continuing to take our expenses down and continuing to innovate and differentiate."
In its Q2 earnings report released this week, Whole Foods, which was long known by investors as a standout performer, reported earnings of $0.38 per share, short of the $0.41 per share originally forecast for the period. Comparable-store sales, or comp sales, increased by 4.5 percent, failing to reach the expected increase of 5.4 percent. The retailer also softened its predictions for the fiscal year, lowering anticipated 2014 sales growth from 11 percent to 10.5 percent.
Before the latest bit of discouraging news for Whole Foods hit the wires, two big-box retailers, Wal-Mart Stores, Inc. (NYSE:WMT) and Target Corp. (NYSE:TGT), announced that that they would boost their organic offerings with new lines of organic products priced well below the premium prices that Whole Foods and other outlets charge.
The fallout for Whole Foods did not come as a surprise to analysts who had their fingers on the pulse of the retail industry, like Jeff Weidauer, vice president of marketing strategy at Vestcom, a Little Rock, Arkansas, retail marketing company.
"For Whole Foods, the biggest issue is competition," Weidauer said. "The standard story is when you're successful at something, that breeds competition. And then once competition enters, price becomes a major factor, because the first thing a competitor is going to do is introduce a similar product at a lower price, and Whole Foods hasn't responded quickly enough by lowering prices."
"It's been the standard moniker for years, people call it 'Whole Paycheck,' and now they're having to think about price," he added. "It's not part of their DNA."
Offering goods that consumers want at the lowest possible price is the essence of Wal-Mart's business model. Though the company was been slow to jump on the organic food bandwagon in the past, Wal-Mart's April 10 announcement that it would offer a new line of nearly 100 organic food items under the revived Wild Oats label sent shockwaves through the sector, which had just been rattled a day earlier when Target announced that it would sell its own organic offerings.
Wayne Perry, founder and CEO of GSC Products of Scotia, N.Y., agreed that Whole Foods needs to lower its prices if it wants to compete with more affordable outlets like Wal-mart and Target. Perry said his company does not allow its skin creams, nasal sprays and other products to be sold in Whole Foods stores because "they nickel and dime the vendors, and they gouge the consumers," a model he believes will not bode well for increasingly savvy customers facing a widening range of options of where to buy organic and natural goods.
"Our independent natural markets and chains do brisk sales because they deal directly with us as a manufacturer, and they pass that savings on to the consumers," Perry said. "Whole Foods' biggest problem is [its] pricing.
"American shoppers have become very price-sensitive and very price-aware, thanks to e-commerce," he said. "The most successful retailers are matching Web prices, but Whole Foods has not conformed to this new mindset of Americans to find the best deals."
Many ordinary consumers agree with that line of reasoning, including George A. Boyd, a Los Angeles-based meditation teacher and author.
"Speaking as a consumer who used to buy 75 percent to 85 percent of all of my groceries at Whole Foods, and now buy only 10 percent there, I can hazard a guess as to why they are declining: They are pricing themselves out of the market," Boyd said. "I'm on a limited budget, so Whole Foods has lost my business because they are so pricey -- simple as that. And I'm glad to see my local supermarkets get into selling organic produce, and if Target wants to go there, more power to them."
Susan Lee, a project manager at global strategy agency Brand Union in New York, N.Y., said that though she believes Wal-Mart's new line of lower-priced organic products is the single "most important factor" that could affect Whole Foods' fortunes, other competitors are also crowding the organic and health food market, further undermining the chain's long-standing dominance. Wal-Mart and Whole Foods did not respond to requests for comment on Friday.
"I think places like Kroger and also the food delivery services that have taken the market share from places like Whole Foods -- like Fresh Direct and PeaPod -- are some of the major threats as well in those areas where delivery services offer their services," Lee said. She added that Whole Foods' business model has "stagnated" and the company needs to return to its innovative roots if it hopes to retain its pre-eminence.
"Maybe there's something that we haven't even thought of, but there has to be something revolutionary, because up until now they've been the innovators in the grocery space, and they haven't been that in a while."
Despite the headwinds Whole Foods faces, some experts, like Michal Ann Strahilevitz, a professor of marketing at Golden Gate University in San Francisco, say that Whole Foods still has a bright, if somewhat diminished, future.
"I would not give up on Whole Foods yet," he said, adding later, "Whole Foods still offers a pretty unique mix of quality products that consumers are willing to pay a premium for, and a really pleasant and convenient shopping experience … but they need to do more to offer a nice mix of quality and value and let consumers know about that shift."
And Steven K. Lewis, an investment advisor at L&A Capital Advisors in Raleigh, N.C., is even more confident about the future of Whole Foods. He said that Wal-Mart and Target "are not making a dent in the organic space. Yet." He added that the recent decline in disposable income among consumers, and high spending by the chain on expansion, demonstrate that the Q2 earnings report "most likely is an anomaly" despite the disappointing results.
"Whole Foods price points are extremely high, yet their sales per square foot is nearly three to four times that of any other food retailer," he said. "Whole Foods' [earnings per share] is still relatively high, so investors are 'confident' in the retailer. Yet, institutional sell-offs began to occur in November."