Why Acquiring Julius Randle Could Sink Lakers' NBA Title Hopes
KEY POINTS
The Los Angeles Lakers have been linked to possibly bringing back Julius Randle
Randle was waived by the Lakers in 2018 and has since found new life on the New York Knicks
Randle has had issues that the Lakers will need to gamble on if they decide to pull the trigger
The dust of the NBA offseason is slowly settling as teams have made their peace with their respective rosters as all 30 teams look hopefully towards the incoming 2022-23 season.
However, prolific teams such as the Los Angeles Lakers are still searching for ways to improve their chances at winning their record-breaking 18th NBA title to get ahead of their eternal rival in the Boston Celtics.
That includes rumors of the Lakers possibly acquiring divisive forward Julius Randle from the New York Knicks if their deal with the Utah Jazz for Donovan Mitchell comes to fruition.
During a Spotify Live session on Saturday, July 30, Marc Stein reported that a source close to the situation told him that the Lakers would be willing to take on Randle's four-year, $117.1 million contract.
The Lakers parted ways with Randle as part of the trade deal that brought Anthony Davis to Los Angeles from the New Orleans Pelicans as they renounced their rights to him in order to make the deal happen.
Randle joined the Pelicans on a two-year, $18 million deal before declining his second-year player option in order to sign a three-year, $63 million contract with the Knicks.
The versatile big man has shown that he can keep on working on his game and become a major contributor as evidenced by him getting the Most Improved Player nod at the conclusion of the 2020-21 season.
After a stellar run with the Knicks, Randle re-upped with them on his current contract, but the Knicks fanbase has been split on their feelings with the forward because he would sometimes play great in one game and then suddenly look disinterested in the next.
Things came to a head in March when Randle shoved the Phoenix Suns' Cameron Johnson in a heated game that saw Randle get ejected.
Johnson went on to win the game for the Suns after putting up a career-high 38 points on 11-of-16 shooting from the field with Knicks fans lamenting Randle's attitude.
This is what the Lakers will have to deal with if ever they do go for Randle.
As it stands between the Knicks and Jazz, a trade for Mitchell has stalled in recent weeks according to Shams Charania of The Athletic.
There is no doubt that Randle is a talented forward in his own right that could help ease the load off Davis in the frontcourt, but his attitude issues will have to be managed though.
The Lakers are still in search of ways to become NBA title contenders and bringing back Randle is a major gamble on their end.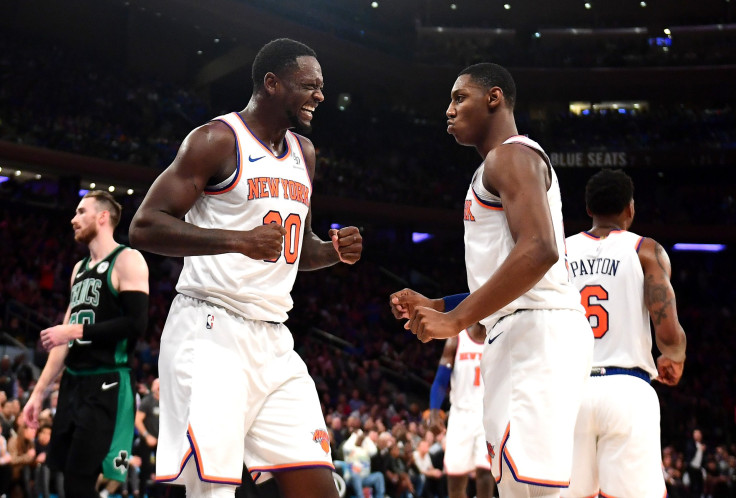 © Copyright IBTimes 2023. All rights reserved.