Why Are Pakistan And India Fighting? Nuclear War Threatened After Kashmir Attack At Uri Military Base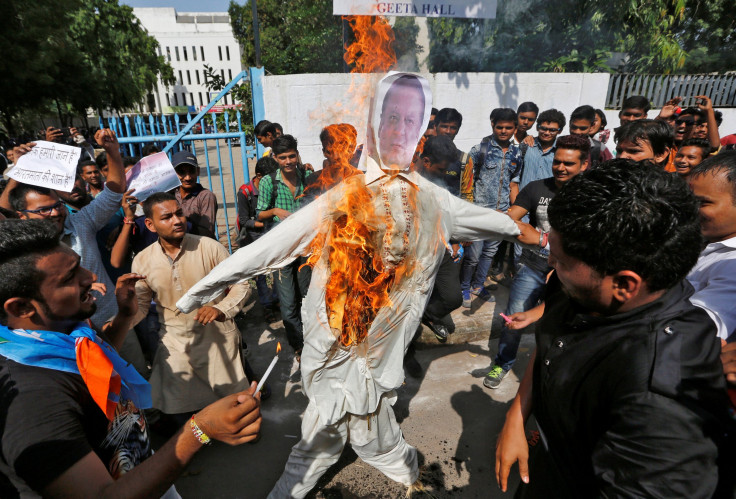 India and Pakistan exchanged heavy gunfire Wednesday as the two nuclear-armed neighbors edged closer to all-out war over an attack on an Indian military base on Sept. 18 that killed nearly 20 soldiers.
"We will destroy India if it dares to impose war on us. Pakistan army is fully prepared to answer any misadventure of India," Pakistan's Minister of Defense Khawaja Asif said Wednesday to a local TV network. "We have not made atomic device to display in a showcase. If such a situation arises we will use it and eliminate India."
Asif's threat comes one day after India announced it would boycott a South Asian summit in Pakistan, saying Islamabad was responsible for the attack on the military base in the town of Uri, BBC News reported. The attack sparked days of protests in the disputed border state of Kashmir during which demonstrators burned Pakistan's Prime Minister Nawaz Sharif in effigy.
In the attack, four militants armed with guns and grenades breached the Indian military base in Kashmir, igniting some of the barracks there during the hours-long siege, the Associated Press reported. Such a high number of Indian soldiers were killed because a new group of troops expected to take over the base were being housed in temporary shelters and tents, which became engulfed in flames from the attack. The militants were ultimately killed by Indian soldiers returning fire.
India is reportedly reviewing a water-distribution treaty with Pakistan and Indian Prime Minister Narendra Modi was quoted as saying: "blood and water cannot flow together." The Pakistani Embassy in Washington, D.C., has appealed to the World Bank to step in and fulfill "its obligations under the treaty while remaining neutral."
Modi decided against taking any immediate military action but has reportedly vowed to "isolate Pakistan internationally" unless its neighbor takes steps to end its support of Islamic militant groups.
Pakistan, which India has called a terrorist state, has denied being responsible for the attack. Asif says his country is being framed and the attack was "a plan devised by India itself." No group has claimed responsibility for the attack.
India said Tuesday two men it arrested were "guides" from "Pakistan-Occupied Kashmir" who led the attackers to the military base, NDTV reported. The suspects have admitted to being a part of Jaish-e-Mohammed, a terrorist group that India has blamed for the attack, according to the Times of India.
The two nations have engaged in military conflict four times since 1947. A timeline to the history of conflicts between India and Pakistan can be found here.
Pakistan has an estimated 120 nuclear warheads while India has about 110, according to the nonprofit Arms Control Association. Neither country has signed the Nuclear Nonproliferation Treaty, which aims to stop the spread of nuclear weapons.
© Copyright IBTimes 2023. All rights reserved.