Why The Balkans Are Becoming The Transit Point For Foreign ISIS Militants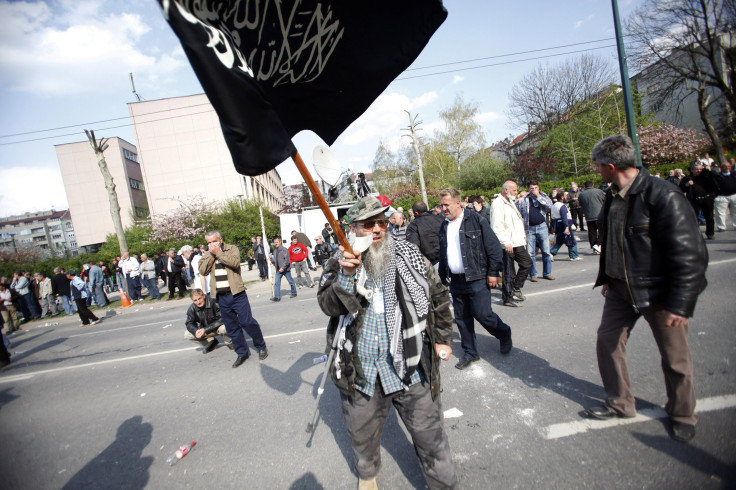 The Balkans are becoming a transit point for foreigners wanting to fight with the Islamic State group in Iraq and Syria. Over the past several months, authorities in Bosnia, Kosovo and Bulgaria have arrested foreigners allegedly working for ISIS. In the latest attempt to crack down on ISIS militants, Bulgarian police detained three foreigners wanted in Spain on terrorism charges. The foreigners were on their way to take part in the conflict in Syria and to fight with ISIS.
Bulgaria's state security agency said Tuesday that the three suspects were detained at a border crossing with Turkey. Two of them were Moroccan and one was Brazilian. Interpol had issued warrants for the three suspects.
Islamist foreigners wanting to reach Iraq and Syria to fight with ISIS are flocking from places like Morocco to Europe and then on to the Balkans, before heading to Turkey to pass through the border to the battleground. Moroccan authorities said that more than 2,000 nationals, many of whom passed through the Balkans, are now fighting in Syria and Iraq with ISIS. Spain's ambassador to Iraq, Jose Maria Ferre de la Peña, said in November that about 100 citizens of Spain were fighting with ISIS.
Bulgaria's arrest of the fighters Tuesday is just one example of how Balkan states are cracking down on Islamist fighters headed for Iraq and Syria. This year Bosnia passed a law that puts convicted Islamists and recruiters in prison for up to 10 years. Other Balkan nations such as Kosovo and Serbia have also strengthened their anti-terrorism laws.
Bosnia has arrested people thought to be fighting with ISIS almost every month since June when the Sunni militant group took over Iraq's second biggest city, Mosul. In one of the most recent crackdowns, Bosnian police arrested 11 people on suspicion of fighting alongside ISIS militants, or recruiting and raising money for the group. More than 100 police took part in the operation, which spanned over five towns. In September, 16 others were arrested in Bosnia on similar charges. Bosnian authorities said earlier this year that up to 1,000 people from the country were thought to be fighting with ISIS.
As of June, according to a report published by the Combating Terrorism Center, a research institution at West Point, somewhere between 200 and 600 fighters from Balkan nations have traveled to Syria since 2012.
In September, the U.S. State Department designated two Balkan fighters as terrorists, imposing economic sanctions on them and any Americans who associated with them. One of the fighters was a Kosovar Albanian affiliated with ISIS and one was a Bosnian who fought with Jabhat al-Nusra, al Qaeda's offshoot in Syria.
Several Balkan states officially declared their support for the U.S.-led military coalition in Iraq and Syria to fight ISIS. Balkan states in NATO and the European Union, such as Croatia, Bulgaria and Romania, joined the coalition, as did Bosnia, Kosovo, Macedonia, Montenegro and Serbia.
© Copyright IBTimes 2023. All rights reserved.