Why 'Criminal Alien' Is Offensive: In Immigration, Words Are More Than Political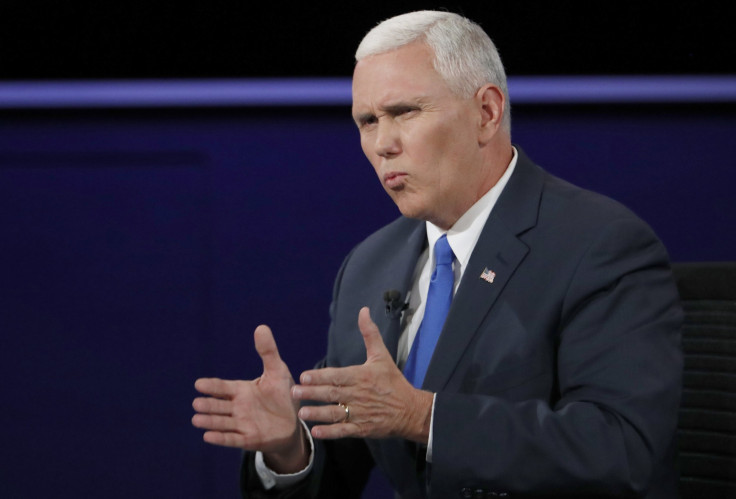 In Tuesday night's vice presidential debate, Republican Mike Pence effectively declined to defend controversial immigration comments from his running mate, GOP nominee Donald Trump. But Pence also used a particular phrase to describe undocumented immigrations that is controversial to many Americans.
While debating Democratic VP nominee Tim Kaine at Longwood University in Virginia, Pence multiple times referred to undocumented immigrants as "criminal aliens." In total, he used the phrase seven times, according to a Washington Post transcript of the event.
"Donald Trump has laid out a priority to remove criminal aliens, remove people that have overstayed their visas," Pence said. "And once we have accomplished all of that, which will — which will strengthen our economy, strengthen the rule of law in the country and make our communities safer once the criminal aliens are out, then we'll deal with those that remain."
Later, Pence suggested undocumented immigrants are carrying out violence, which seemed to echo Trump's claims that Mexico is sending "criminals" and "rapists" to the U.S., remarks the GOP VP nominee didn't seem particularly eager to defend.
"There are criminal aliens in this country, Tim, who have come into this country illegally who are perpetrating violence and taking American lives," Pence said.
The phrase "criminal alien" is a wording many take issue with, saying it dehumanizes undocumented immigrants. Twitter users responded accordingly.
The Library of Congress this year stopped using the phrase "illegal alien" after advocates argued both terms were pejorative. The Supreme Court stopped using the phrase "illegal immigrant" in 2012.
There have been many discussions about using the phrase "illegal immigrant" some arguing it should be allowed since people made the decision to cross the border illegally. Others, like Felix Salmon at Fusion, point out that the phrase is meant to be pejorative — we don't call people who speed "illegal drivers" — and that being an undocumented immigrant is a civil offense not a criminal one. Since being an undocumented immigrant isn't a crime — but rather a violation of civil immigration laws — Pence's phrasing of "criminal alien" is both incorrect and likely offensive to some.
Despite this, many seemed to think Pence performed admirably at Tuesday night's debate, although he didn't spend much time defending Trump and attempted to deny comments the GOP nominee inarguably made.
It's unclear if Pence was able to help the Republican ticket turn its fortunes around, which has struggled recently against Democratic nominee Hillary Clinton and running mate Kaine. Heading into Tuesday's debate, Trump had a somewhat disastrous stretch. The first presidential debate was won convincingly by Clinton, according to both polls of voters and political observers. A number of articles also brought to light bad news for Trump, including a Newsweek piece that alleged illegal business dealings in Cuba and a New York Times story on Trump's 1995 tax records that detailed a near $1 billion loss and a possible tax two-decade-long Trump tradition of avoiding taxes. The GOP nominee also went on a late night/early morning Twitter tirade against former Miss Universe Alicia Machado (who has said he made fun of her weight gain years ago) and seemed to tell a room full of veterans that those who suffer from PTSD simply can't handle it and aren't strong.
Trump has struggled in the polls since his debate performance, with Clinton opening up a wider lead in most national polls. For a four-way race, YouGov/Economist had Clinton leading by 3 percentage points, CNN/ORC had her up by 5 points, while CBS had her up 4 percentage points. A Rasmussen Reports poll had Trump up 1 point. The Real Clear Politics average of polls had Clinton up 3.8 percentage points in a four-way matchup.
© Copyright IBTimes 2023. All rights reserved.
FOLLOW MORE IBT NEWS ON THE BELOW CHANNELS