Why Deshaun Watson Might Ask The Houston Texans For A Trade
Shortly after rumors began to circulate that Deshaun Watson was pondering asking the Houston Texans for a trade, multiple reports have confirmed that the quarterback is unhappy with the franchise. As Houston looks for a new general manager and head coach, the organization has failed to include its star player in the hiring process.
Watson gave Texans owner Cal McNair his thoughts on the team's GM search and suggested they meet with specific candidates, ESPN's Adam Schefter reports. Houston went on to hire New England Patriots executive Nick Caserio without consulting Watson, who discovered the news on social media.
"Some things never change," Watson tweeted after learning of the hire.
In the team's search for a new head coach, Watson has advocated for Kansas City Chiefs offensive coordinator Eric Bieniemy, Sports Illustrated's Albert Breer reports. Patrick Mahomes has spoken very highly of Bieniemy, who might be the most sought after head coaching candidate in the league.
Of the six teams with a head coaching vacancy, the Texans are the only one that hasn't put in a request to interview Kansas City's coach.
Watson was blindsided last year when Houston traded away his top target. The Texans sent receiver DeAndre Hopkins to the Arizona Cardinals in a head-scratching move without consulting the quarterback.
Bill O'Brien was acting as both Houston's GM and head coach when Hopkins was traded in March. O'Brien was fired in October.
Just because Watson is unhappy, that doesn't mean he's going to request a trade. If Watson wants to go elsewhere, the Texans would need a massive haul of draft picks to even consider dealing one of the NFL's best quarterbacks.
The Texans went 4-12 in the regular season, tied for the third-worst record in the NFL.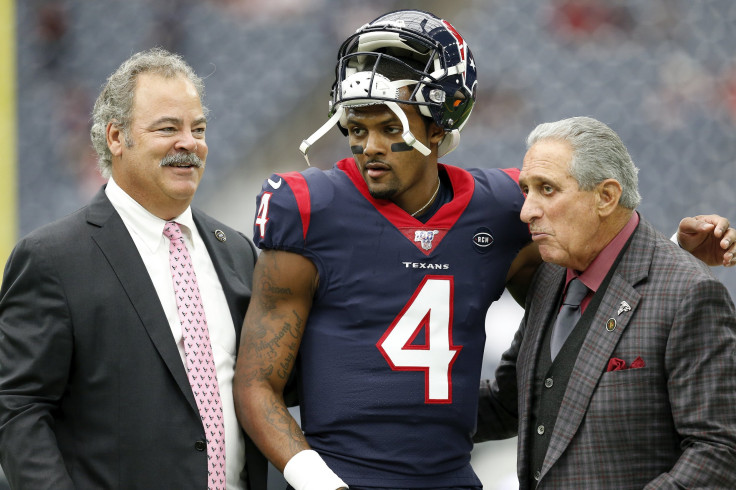 © Copyright IBTimes 2023. All rights reserved.